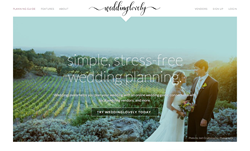 We're focusing on what we do best — wedding planning and wedding vendors — and proud to be working with one of the best wedding website startups to serve our customers in an area we aren't focused on. - Tracy Osborn, WeddingLovely founder
San Jose, California (PRWEB) June 04, 2014
WeddingLovely today announced the redesign of their online wedding planning guide, which walks couples though the process of planning their wedding and connects couples with local wedding vendors from WeddingLovely's vendor network, currently over 3,000 wedding vendors worldwide.
WeddingLovely is also partnering with one of the best wedding website providers, Appy Couple. Until today, WeddingLovely provided customers with a customizable hosted wedding website but this this feature was not the core focus of the company. With the Appy Couple partnership, WeddingLovely is sunsetting hosted websites for new customers and is now including Appy Couple's services as part of the wedding planning package.
"We're focusing on what we do best — wedding planning and wedding vendors — and proud to be working with one of the best wedding website startups to serve our customers in an area we aren't focused on," provided WeddingLovely's founder, Tracy Osborn.
WeddingLovely removed one feature, but added more under the new redesign:

Wedding planning guidance: WeddingLovely guides walk couples biggest tasks involved in planning their wedding, such as finding a photographer or booking a venue.
Wedding vendors: WeddingLovely works with over 3,000+ wedding vendors worldwide, and couples can browse nearby vendors, favorite, and contact vendors directly from their planning guide.
Partner, family, and wedding party collaboration: Users can invite their partner, planner, and others to plan with them on the same account.
Pinterest boards integration: Couples can add their Pinterest boards directly into their planning pages as a widget, integrating their inspiration into their planning.
Gender-neutral language: The "bride" is no longer the primary planner in the modern day couple — WeddingLovely welcomes same-sex couples and planning grooms.
No advertisements, anywhere: WeddingLovely is a paid product so all advice and recommendations can be advertisement-free.
With this partnership, WeddingLovely and Appy Couple are pleased to offer complementary wedding services together without competing. Couples using WeddingLovely have the option to choose just a wedding planning account for a one-time payment of $35, or a combined WeddingLovely and Appy Couple account for $70.
For more about this release and contact information, please visit WeddingLovely's press page.
About WeddingLovely:
WeddingLovely is dedicated to simplifying the wedding planning process, through an online wedding planning guide and working with thousands of local and small-business wedding vendors worldwide.
WeddingLovely Press Contact: press(at)weddinglovely(dot)com
About Appy Couple:
Appy Couple is the most magical and stylish way to create and publish your own mobile wedding app and website. It's private. It's social. It's easy, easy, easy.
Appy Couple Press Contact: media(at)appycouple(dot)com