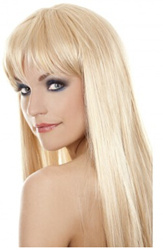 (PRWEB) June 04, 2014
Recently, Diyouth.com, a famous company that offers various kinds of beautiful dresses and fashion accessories, has released its new selection of high quality human hair wigs. Now, the company is providing great discounts for all these natural hairpieces.
In the promotion, all the company's brand new wigs are very cheap. It also offers low shipping costs for worldwide customers. The current discount is up to 35% off. The company's sales manager says that low prices don't always come with poor quality. All Diyouth.com's discounted wigs are of the same quality as those from a retail store.
"We are excited to unveil our new collection of natural wigs. As far as I am concerned, these items are offered in various styles; they can add beauty and grace for the wearers. Now, we are striving to offer the most comprehensive hairpiece solutions for our clients. Please note that the special offer will last until June 21, 2014," he says.
The best-selling item in the company's fresh assortment is called Straight Hand Made Full Lace AAAAAAA Human Hair Long Gold Wigs; some additional information about it is as follows:
SKU: DIYWI-50137
Free shipping: Yes
Brand: AAAAAAA
Crafts: Hand Made
Color: Gold
Material: Human Hair
Connect Way Hairnet
Length: 16 inch
Dyeable: Yes
Fabric: Chinese Hair
Hair Density: 130% Medium-Heavy
Style: Straight
About Diyouth.com
Diyouth.com is a professional online supplier in the international market; its products are popular among worldwide ladies. The company has thousands of enchanting wedding dresses and women's special occasion gowns for sale. Customers can find many different designs at its website. Also, it is also well-known for its considerate online service and rapid delivery.
For more detailed information about its unique products, please visit http://www.diyouth.com/.