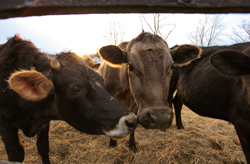 I believe the best kind of farming pays close attention to how nature works...it's critical.
WARRENTON, Virginia (PRWEB) June 05, 2014
Which is more important to the consumer, a certified organic label or knowing the farm where the food comes from?
Jesse Straight, owner of Whiffletree Farm in Warrenton, Virginia, believes it should be the latter, and he details why in The Health Journal's most recently released documentary, "Portrait of a Farmer."
The Health Journal is a consumer health magazine serving the Hampton Roads area of Virginia from Virginia Beach to Williamsburg. Its writers, photographers, artists and video producers use a variety of media to tell stories that impact the healthy lifestyle choices of the community, including the type of food eaten.
To understand healthy food, the documentary suggests, the community should understand the health of food.
"Portrait of a Farmer" begins with Straight and his morning just before 5 a.m. when he feeds his chicks, collects eggs from his laying hens, tends to his cattle, cares for his pigs and sets his chickens on fresh grass.
"I believe the best kind of farming pays close attention to how nature works...it's critical," says Straight.
While trendy pro-organic documentaries—like "Food, Inc."—paint a portrait of the horrors of the food industry, this short documentary illustrates a refreshing focus on the relationship between the land, the animals and the farmer.
As Straight gestures to the beautiful landscape that surround us, he explains, "Being a farmer is special because this is my office. You spend your day making animals happy... you get to do things that help the things around you thrive."
And despite his farm products not bearing the USDA certified organic seal—where certification costs may range from a few hundred to several thousand dollars, not including the application fee, annual renewal fee, assessment on annual production or sales, and inspection fees—Straight maintains that farms using organic methods like his, where there is a mutual respect between farmer, animal and nature, operate above and beyond the USDA's guidelines while allowing the animal to live its life as naturally as possible.
He asserts that "healthy animals make healthy food" and thus labels become unnecessary when you're accountable of the community you feed.
And apart from that, the cost of such a formality would increase costs for his customers, a practice Straight doesn't believe in.
The documentary takes viewers on a journey, editors with The Health Journal say, showing them a day in Straight's shoes in an attempt to provide a better appreciation for the care that it takes to bring fresh, healthy food from farm to table.
For more information about The Health Journal and its documentary films, call (757) 645-4475 or visit http://www.thehealthjournals.com.