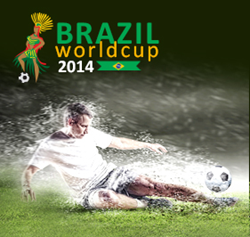 Get hold of the best airfares for flights flying to Brazil and be a part of the World Cup's sensation 2014. Incredibly cheap last minute airfares are only available with TravelHouseUK.
London, UK (PRWEB UK) 6 June 2014
As the World Cup hype is on the rise, fans from across the globe are seeking cheaper price deals for flights heading to Brazil, country hosting the World Cup for the year 2014.
The world cup 2014 is scheduled to start off on the 12th of June in Sao Paulo, Brazil's biggest city. The teams that will be facing each other in a nail-biting opening match includes the hosting country against Croatia and ends in a fantastic finale match scheduled to be held on the 13th of July at the Maracana stadium in Rio.
Previously posted higher rates for airfares and hotel reservations have now seen a drastic decrease in their fares as the world cup is now drawing close. One of the leading organizations in this regard, TravelHouseUK is now offering great highly affordable flights to all passengers flying from Britain to Brazil in support of their country's team. The offer is only limited and is serving passengers that are scheduled to fly from United Kingdom.
England is scheduled to play their first match against Italy on the 14th of June in Manaus. Direct flight routes to the city of Sao Paulo are available from where convenient flights can be booked to Manaus. England's second nail-biting thriller will then be held in Sao Paulo against Uruguay, one of England's most awaited matches that have gotten the fans buzzing with excitement.
The airfares that are offered by TravelHouseUK will vary according to the airline that one intends on travelling with. Some of the leading airlines with great airfare package deals to Brazil include KLM, Air Europa, Delta Airlines, TAP-Air Portugal, Alitalia, American Airlines and Tam Linhas Aereas amongst many others. Details of bookings and the flight routes are available at TravelHouseUK's website along with the handpicked deals for the flights heading to Brazil from all UK airports.