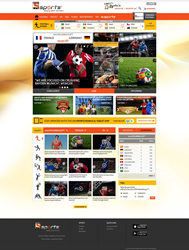 NP Singh, CEO, Multi Screen Media commented, 'The idea was to create a premier digital sports entertainment destination where we will offer quality content which is mass inclusive and not designed to cater only to ardent sports fans.'
(PRWEB) June 06, 2014
Multi Screen Media today announced the launch of LIV Sports, a premier Digital Sports Entertainment destination. The digital destination will present one-point access to the right mix of sports and entertainment innovatively across devices. Coming from the Sony Network, LIV Sports will target both the avid Sports fan as well as the closet fan / entertainment seekers.
LIV Sports is the Official Mobile and Internet Broadcaster for the 2014 FIFA World CupTM starting 12th June 2014. LIV Sports will show both LIVE and Video-on-demand match content, with rich and informative statistics and analysis.
NP Singh, CEO, Multi Screen Media commented, "The idea was to create a premier digital sports entertainment destination where we will offer quality content which is mass inclusive and not designed to cater only to ardent sports fans. We have attempted to redefine the way sporting content is presented and consumed. With LIV Sports we will attempt to keep every cross section of our consumers actively engagement through high quality interactive sports content with informative data and analytics."
"For the 2014 FIFA World CupTM, LIV Sports will have the following features and content like LIVE Matches, with 4 different camera angles, Interactive Timeline ability to watch key moments in the match, LIVE Statistics, Match Centre, Heat Maps and Analysis, VOD Match highlights, Best goals, team features, LIV Sports Football Fantasy league, Mohit Bana Messi."– Jerseyfy Me, Pehchaan Kaun, News and Sports Editorials and archive Football videos.
Nitesh Kripalani, Executive Vice-President – New Media, Business Development and Digital/Syndication at Sony Entertainment Network, reiterated, "LIV Sports is the first and only digital destination to offer a unique mix of LIVE Sports, LIVE Statistics and Engagement, thereby catering to multiple user groups and their preferences. With LIV Sports we are aiming to create a new category of Sport-ainment or Sports Entertainment. You can either watch the LIVE match, with all the deep statistics overlaying the video, or you can just click a selfie in your team's jersey using the Jerseyfy Me application. We have also brought back the digital avatar of the Player cards, combined with educating fans about the different athletes with Pehchaan Kaun. Over the next few months, viewers will be able to catch up with the widest range of sporting content, including Football, NBA, UFC, Tennis and Cricket on LIV Sports. The digital destination offers LIVE and exclusive video content along with a complete coverage of the latest sporting content present, across devices."
LIV Sports makes available to its viewers the most comprehensive and in depth world-class sporting data and info- graphics. Consumers will be able to access content like details of individual players, performances of teams, rankings, comparisons, event charts and heat maps.
The digital medium will involve its viewers through engagements for the sports loyalist, personalized content and fun applications on social media. LIV sports will offer fun activities like, Mohit Bana Messi that will customize your look, Pehchan Kaun? sports knowledge based quiz and the LIV Sports Football Fantasy League another consumer engagement module.
Login to LIV Sports online, and via the iTunes and Google Play.
App Stores. Also, you can download the app by sending SPORTS to 52525.