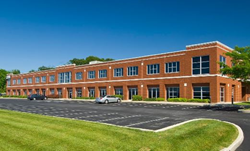 Harrisburg, PA (PRWEB) June 04, 2014
High Associates Ltd. announced that its Building 105 office building in Rossmoyne Business Center placed fifth overall in the EPA's 2013 Battle of the Buildings. The fourth annual national competition recognized buildings that improved energy efficiency, lowered utility costs, and protected health and the environment throughout the calendar year. More than 3,000 buildings participated.
Building 105's performance was also the second-highest in the category of Office Buildings. Steps taken to improve its efficiency reduced energy use by 39.2 percent, preventing 296 metric tons of greenhouse gas emissions with savings of $136,967. Located at 5020 Richard Lane in Mechanicsburg, Pa., the building qualifies for ENERGY STAR certification.
High Associates manages Building 105 as well as other buildings in Rossmoyne Business Center, on Harrisburg's West Shore, for lease to commercial tenants. The properties are owned by High Properties, a Pennsylvania limited partnership by High General Corporation, Sole general partner.
High Construction Company Energy Solutions Group tracked the building's monthly energy consumption using ENERGY STAR Portfolio Manager®, EPA's online energy and water measurement and tracking tool. Energy use reductions were verified by an independently licensed professional engineer at the conclusion of the competition. High Construction was the general contractor for the construction of Building 105, which was completed in 1997.
About High Associates
Headquartered in Lancaster, Pa., High Associates is a leading developer of industrial, office, retail, and multifamily facilities throughout the eastern United States. An affiliate of High Real Estate Group LLC, the firm also provides tenant care and property management services for the High Real Estate Group-owned portfolio of more than six million square feet, and provides development, brokerage, appraisal, and consultative services. For more information, visit http://www.highassociates.com.
About High Construction Company
Based in Lancaster, Pa., with offices in Williamsport, Pa., and Elmira, N.Y., High Construction Company provides design-build, general contracting, construction management, and energy consulting services throughout the mid-Atlantic region of the United States. High Construction specializes in the commercial, industrial, education, hospitality, retail, health care, and multi-family residential markets. High Construction's Energy Solutions Group reduces energy use and operating costs of new and existing buildings through energy audits/studies, retro-commissioning, life cycle design and construction, ENERGY STAR® building certification, and turnkey energy retrofits and renovations. For more information, visit http://www.highconstruction.com.