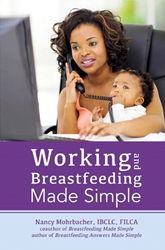 My top priority was to feature the key points employed mothers need to make breastfeeding work.
Amarillo, Texas (PRWEB) June 13, 2014
Praeclarus Press is excited to offer Working and Breastfeeding Made Simple as a valuable new resource for mothers who need support. Statistics show that roughly two-thirds of American women work away from their children. With very clear messages coming from so many sources regarding the benefits of breastfeeding, many mothers are left unsupported when it comes to balancing work and breastfeeding and how to make the two compatible. With its evidence-based insights, Working and Breastfeeding Made Simple takes the mystery out of pumping and milk production. Written by Nancy Mohrbacher, an international breastfeeding expert, it puts you in control of your own experience with straightforward explanations of how milk is made and what you can do to reach your own best level.
Whether your maternity leave is long, short, or in between, it includes what you need to know every step of the way. New concepts such as "The Magic Number" explain how to tailor your daily routine to your body's response. It also includes pumping strategies that can increase your milk yields by nearly 50%. Tips from employed mothers provide the wisdom of hindsight. No matter what your work setting or whether you stay close to home or travel regularly, this book provides the essentials you need to reach your personal breastfeeding goals.
Nancy Mohrbacher is a board-certified lactation consultant and author of breastfeeding books for parents and professionals. Nancy has been helping breastfeeding mothers since 1982. She has worked in private practice, for a major breast-pump company, and for a corporate lactation program. She has worked with women at various stages of motherhood, including pregnancy, maternity leave, and returning to work.
Praeclarus Press is a small press founded by Kathleen Kendall-Tackett, Ph.D., IBCLC, FAPA and specializes in women's health. It features books, webinars, and products that support women's health throughout their lifespan. Based in Amarillo, Texas, the mission of Praeclarus Press is to produce materials that change women's lives.