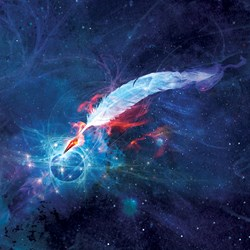 My son and I just finished 'The Poly Islands' by Gerald Warfield in Writers of the Future Volume XXVIII, a great example of the contest showcasing a tale that exemplifies what sci-fi is best at: offering visions of the future not open to any other genre
Hollywood, CA (PRWEB) June 04, 2014
Gerald Warfield of Mineral Wells, Texas, known in the music composition field and first published as a writer of science fiction, in L. Ron Hubbard Presents Writers of the Future in 2012, just discovered his winning story has been read by a father to his son as a life lesson. The father wrote to the contest, "My son and I just finished 'The Poly Islands' by Gerald Warfield in Writers of the Future Volume XXVIII, a great example of the contest showcasing a tale that exemplifies what sci-fi is best at: offering visions of the future not open to any other genre -- and then going beyond that in the story's relevance to the very real predicament we global, industrial over-plasticized humans find ourselves in at present. Thanks again!"
Warfield, an accomplished music instructor (at Princeton), turned financial consultant, turned lecturer in contemporary music notation, and general manager or Chairman of a number of national music associations was not quite through with his goals in life post 70 years old. At 72, he had his first fiction short story published in the contest and he is now breaking as a writer. Gerald has just recently had two stories accepted at Every Day Fiction, "Pastorale #1," and "Bartholomew's Passage." Both stories are of pastoral settings, the first is of two ghosts, lovers in life, that realize their unfulfilled desires after death when they take up residence in a fallen castle. The second is a story of how a medieval boy deals with bullying (it helps if your father is a prominent ghost).
"Parade Through Woodland Park" appeared in the conference book in April at OddCon14 in Madison, Wisconsin.
"Spores of the Volcano" first appeared in NewMyths, an ezine and was later published in "The Campbellian 2014 Anthology."
"The Return of the Mayflower" has now just been accepted at Perihelion Magazine.
L. Ron Hubbard initiated the contest, in 1983, shortly after returning to the field of science fiction with his international bestseller "Battlefield Earth." The contest has, to date helped launch the careers of 12 New York Times bestselling authors.
For more information on the contest visit http://www.writersofthefuture.com.