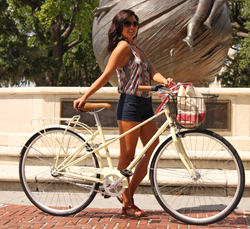 Dallas, TX (PRWEB) June 11, 2014
It's here - the summer weather and sunshine have arrived and the sales on city bikes are heating up. Women across America are discovering the stylish and adventurous convenience of what the bike industry calls a City bike.
City bikes are great for riding on smooth terrains; their handlebars are higher than the typical road bike and the seat is positioned slightly lower to give the rider better comfort and control. They are perfect for casual riding and local adventures. Not only are these bikes highly functional, but they are so stylish. Riders can find almost any color of city bike to match their personality or their personal style on Bikesdirect.com. The site offers several brands of city bikes by popular manufactures such as Windsor, Dawes, and Motobecane. The frame style of these city bikes resembles those of bicycles from the 1950's-1960's but the "modernization of technology allows us to assure our buyers that their bike will provide them with years of comfortable riding," says Windsor Bicyles USA.
Not only are women scooping up these city bikes to ride for exercise but they are also riding to socialize in small towns and big cities all across America. Group rides have become incredibly popular as social events where riders meet up at local restaurants or parks, ride for the evening and cap off the night with dinner and drinks. Since this type of activity is an opportunity to catch up with friends and try out new eatery's women are joining in, and of course, want to look good doing it. Women are just as much a part of these cycling events as men and are proud to show off their fancy sets of wheels.
What are you waiting for? Imagine riding through the streets of downtown with a slight cool breeze in your hair, watching the sun go down, chatting with the handsome biker beside you all while pedaling on a new city bike. Then go make it happen.
So go ahead, peruse the wide variety colors and styles of city bikes available online and pick out the bike that was made with you, or the lucky lady in your life, in mind.