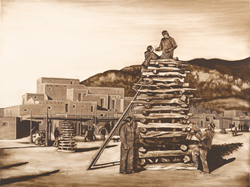 'We're really excited about this year's Fandango and can't express our gratitude enough for the support we receive to benefit the museums.' - Mary Ellen Ferguson, Board President
Taos, New Mexico (PRWEB) June 06, 2014
Taos Historic Museums' 6th Annual Fandango gala, benefiting the Blumenschein Home and Hacienda de los Martinez, has become a favored charity event not to be missed in this historic Northern New Mexico arts community. A highlight of this event are the auctions which present a wide variety of collectable art, jewelry and entertainment activities. In addition, one lucky bidder will have the opportunity to enjoy Dinner for Eight with Taos Mayor Dan Barrone and the First Lady.
This year's poster artist is Jocelyn Martinez hailing from the Taos Pueblo. Her beautiful painting, done in sepia tones on clayboard, entitled "Fuegos de Bienvenida" (Fires of Welcome) will be a major highlight of the Live Auction. Jocelyn works in many mediums and has been gaining more notoriety for her unique creative interpretations. A participant in the Santa Fe Indian Market since 2008, she received 1st and 2nd place Division Awards in 2013 and 1st place Division Award in 2010.
Jocelyn never set out to do "Indian Art". She has simply done what she felt like doing creatively and what she felt was an honest expression of her feelings and experiences. Much of the work resulting from this approach are possibly some of the first honest depictions of the Taos Pueblo by an actual member of the tribe. Such work has been the exclusive domain of non-native artists since they have been coming to the Pueblo over a century ago.
The Live Auction touts other incredible works of art and entertainment e.g. a beautiful wood and copper cross by Tupper Hawley embellished with semi-precious stones and pearls (a must see); Vintage Navajo Blanket c1890-1910 donated by RB Raven Gallery, a contemporary multi-strand jet, Kingman turquoise and spiny oyster necklace by Kenneth Aquilar of Santa Domingo Pueblo donated by Bryan's Gallery; incredible paintings by Cami Thompson and Mary Dolph Wood donated by Wilder Nightingale Gallery.
The Silent Auction beckons with something for everyone: dinners at favorite restaurants from Taos Ski Valley to Albuquerque, spa packages, jewelry and many outdoor adventure activities. Your support is not only deeply appreciated, but is integral to the continuance of two of Taos' most precious jewels.
Tickets are limited and are available at the Blumenschein Home (575) 758-0505 and Hacienda de los Martinez (575) 758-1000. Priced at $100.00 per person or $125.00 VIP which includes complimentary champagne and priority seating.
For more information, go to http://www.taoshistoricmuseums.org.