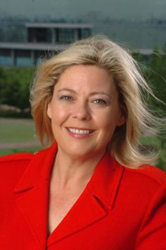 Marietta, GA (PRWEB) June 05, 2014
Tammy Cohen, founder and president of InfoMart, one of the nation's largest background screening company, has received a gold-level Eclipse Award for Corporate Culture from The National Women Business Owners Corporation (NWBOC).
Cohen was honored at a ceremony held May 8 at the PGA National Resort & Spa in Palm Beach, FL. According to the organization, the award "Recognizes a woman business owner that has established a culture at her company that provides an ideal work environment, values employees, encourages open communication and participates in the community in which it is based."
"I am especially grateful to be honored for InfoMart's corporate culture," said Cohen. "I founded the company with the mission to create a unique work environment that promotes life-work balance and affords employees the opportunity to contribute in ways beyond their daily jobs. We seek to embrace not just our employees, but their families as well. When we grow as a family, we grow as a company."
With 100 employees at its metro Atlanta office, the company engages its team members through programs such as "I'M InfoMart" in which committees including "I'M Fit" and "I'M Giving" inspire, motivate and satisfy employees.
"I believe in rewarding and recognizing great employees, Cohen added. "Most of our leadership team started in entry level jobs and worked their way up to management."
NWBOC has led the way for women business owners to obtain WBE Certification. Created in 1995, NWBOC was established to increase competition for corporate and government contracts through implementation of a national certification program for women business owners. For more information, visit http://www.nwboc.org/Eclipse_Awards.html.
About InfoMart
InfoMart is a leading provider of background check services that provide businesses with the information they need to make well-informed hiring decisions. Founded in 1989, this year marks InfoMart's 25th year in business. The company is a pioneer in developing innovative technology and screening services, from criminal history searches to verifications of employment. Accredited by the National Association of Professional Background screeners (NAPBS), a designation earned by less than 10% of the industry, InfoMart has also been recognized on both Security Magazine's Security 500 and Workforce Magazine's Hot List. The company prides itself on its dedication to our customers, innovation and accurate reporting.
# # #