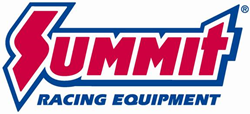 Tallmadge, OH (PRWEB) June 09, 2014
Available in two and three inch drops depending on application, Belltech Drop Spindles maintain critical suspension geometry and eliminate excessive ball joint, shock, and tire wear common to other methods of lowering. Each spindle is built from OEM grade high strength ductile iron, providing the structural integrity to meet and exceed all factory specifications.
Summit Racing carries Belltech Drop Spindles for most popular Chevy/GMC trucks and SUVs as well as 1997-2008 Ford F-150, 1986-2000 Nissan pickup, 1984-95 Toyota pickup, 1994-99 Dodge full size pickup, and early Dodge Dakota.
And since it's silly to lower the front without dumping the back end too, Summit Racing has Belltech lowering blocks, shackle kits, C-notch kits, shocks, and more to finish the job.
See All Belltech Drop Spindles at Summit Racing
See All Belltech Products at Summit Racing
Summit Racing Equipment
http://www.SummitRacing.com
1-800-230-3030