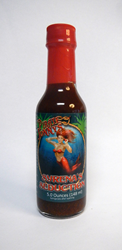 Pirate Jonny's product line consists of an array of award winning rubs, seasonings and sauces providing exceptional flavor to any and all foods
Clearwater, FL (PRWEB) June 11, 2014
Pirate Jonny's Caribbean BBQ Rubs, Seasonings & Sauces has often been asked by consumers to produce a hot sauce to compliment the line of BBQ sauces. A name selection for the hot sauce has finally been created, after having input from its customers on Pirate Jonny's facebook.
Introduction of Pirate Jonny's new Jerk Hot Sauce, "SYRENA'S SEDUCTION" will make its debut in the 8th annual Hot Pepper Festival contest in Pinellas Park, Florida.
Pirate Jonny's product line consists of an array of award winning products starting with their National BBQ Association Award winners, Caribbean BBQ Rub and Jamaican Jerk Seasoning. The product line of Caribbean BBQ rubs extends onward to seasonings, BBQ sauces, chili and crab boil mixes and now its own creation, Syrena's Seduction.
Syrena's Seduction will be available online this month at Pirate Jonny's for consumers to purchase.