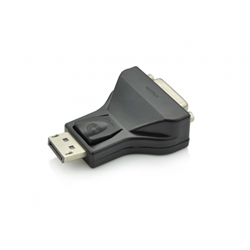 (PRWEB) June 05, 2014
Recently, Hiconn Electronics, a famous company that offers various kinds of electronics accessories, has announced its latest collection of DisplayPort to DVI Adapters. Furthermore, the supplier has also announced that all these adapters are offered at discounted prices, up to 30 percent off.
Hiconn Electronics specializes in high-end electronics accessories; it wants to offer the best items for its new and old clients. Owing to the company's successful marketing strategies and excellent products, it has become one of the most preferred suppliers in the global market.
Here is some detailed information about the brand new DisplayPort to DVI Adapters from Hiconn Electronics:
--Support full DisplayPort link tracking
--Compliant with DVI 1.0 specifications of up to 1.65 Gbps
--Support deep sleep mode (suspend mode)
--Support VGA, SVGA, XGA, SXGA, and UXGA at 162 MHz pixel rate
--HDTV: 480i, 576i, 480p, 576p, 1080i and 1080p
The company's sales representative states, "We have a large number of high quality DisplayPort to DVI Adapters for sale at the moment; all of them are promised to be great. Thus, I highly recommend these items to worldwide distributors. Please note that the big sale will come to an end on June 20, 2014. I firmly believe our new adapters will be popular in the current market."
About Hiconn Electronics
Hiconn Electronics (Shenzhen Hiconn Electronics Co. Ltd.) is devoted to designing and manufacturing a wide range of connection cables and customized cable assemblies, offering many HDMI cables, VGA cables, SATA cables, USB cables, 1394 cables, DVI cables, SCSI (Small Computer System Interface) and more. For more information, please visit http://www.hiconn.net/.
Contact Person: James Yin (Sales Director)
Company Name: Shenzhen Hiconn Electronics Co., Ltd.
Address: Shenghua Building., Xixiang Road., Baoan District, Shenzhen, Guangdong Province, China
Zip Code: 518102
Tel: +86-755-8109 8345
Fax:+86-755-2779 3497