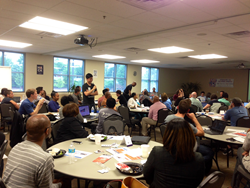 Nearly 90 attendees showed up over the two-day event, forming 13 competitive teams.
Atlanta, GA (PRWEB) June 05, 2014
The Technology Association of Georgia mobilized Atlanta's technology community this past Memorial Day weekend with two events to assist the Atlanta Community Food Bank (ACFB).
TAG Day of Service
On May 30th volunteers from TAG member companies sorted and delivered food boxes in the Atlanta Community Food Bank's Product Rescue Center (PRC) as part of the annual TAG Day of Service event. PRC volunteers are an essential part of helping the Food Bank to distribute millions of pounds of food to those facing hunger and food insecurity in our community. Approximately 4,000 pounds of food; 36,000 meals; and 249 pounds of donated food were processed by volunteers from TAG Member companies at the event.
Atlanta National Day of Civic Hacking
TAG in partnership with Code for Atlanta, followed the Day of Service activities with the Atlanta National Day of Civic Hacking event on May 31st. The event was one of over 100 events that took place during May 30th – June 1st throughout the U.S. as part of the National Day of Civic Hacking. The Atlanta event brought together software developers, computer scientists, entrepreneurs, citizens, and ACFB staff.
Nearly 90 attendees showed up over the two-day event, forming 13 competitive teams. The Hackathon projects revolved around food security and sustainability issues, with a focus on technical needs of the host, ACFB.
"We were truly honored to be chosen to host the National Day of Civic Hacking in Atlanta. The hackathon event really highlighted for us what can be achieved when you match bright minds and smart technology with a great cause like fighting hunger," said Richard LeBer, VP of Finance & Strategy at Atlanta Community Food Bank. "We are already beginning to execute on some of the ideas and novel solutions that were generated at the event. The potential for real impact is great, when you consider that we distribute more than 45 million pounds of food a year, through our 600 partner agencies throughout 29 counties, to those in our community that struggle with finding their next meal."
The ACFB presented 13 challenges to the civic hackers, these challenges include:

Agency website portal
Agency mobile SMS application
A efficient tool to determine ripe fruit
Database improvements to ACFB online ordering portal
A thorough user-experience review of ACFB's website
A portal for member agencies to communicate with each other
A truck-loading planning tool
A new online ordering portal for agencies to place orders with the ACFB
A mapping project of urban farms around metro Atlanta
A tool to incentivize the purchase of local produce using SNAP benefits
An API for the ACFB
An analysis of food deserts and hunger issues using U.S. Census data
A tool for agency case management
For detailed information on all ACFB challenges, please click here.
The winners of the Atlanta hackaton were:
First Place: The winner of the Atlanta Hackathon challenge was team Foogle. Foogle, a portal site, hosts websites for over 600 member agencies that the ACFB serves. The user simply inputs a zip code and agencies within their vicinity appear. To view the preliminary Foogle website, please visit: http://foogle.herokuapp.com/.
Second Place: Team Food Tree received the second place award for an SMS service that efficiently connects member agencies to the ACFB. This SMS service allows individuals with basic cell phones the ability to place orders for food and coordinate deliveries.
Third Place: Droopal, a web service that connects to a bend sensor, helps Concrete Jungle identify apple and pear trees on public land in Atlanta that are ready to be picked. This bend sensor provides daily average readings of tree limb weight until a set threshold is met and identifies which trees have ripe apple or pears.
Honorable Mention went to SQL Plumbing team that achieved significant database and performance improvements to the ACFB's online ordering portal.
"TAG greatly appreciates ACFB for hosting the Atlanta National Day of Civic Hacking event, and I want to thank everyone who gave their weekend to give back to their community," said Tino Mantella, President/CEO of the Technology Association of Georgia.
About the Technology Association of Georgia (TAG)
TAG is the leading technology industry association in the state, serving more than 23,000 members through regional chapters in Metro Atlanta, Athens, Augusta, Columbus, Macon/Middle Georgia, and Savannah. TAG's mission is to educate, promote, and unite Georgia's technology community to foster an innovative and connected marketplace that stimulates and enhances a tech-based economy.
The association provides networking and educational programs; celebrates Georgia's technology leaders and companies; and advocates for legislative action that enhances the state's economic climate for technology. TAG hosts over 200 events each year and serves as an umbrella organization for 34 professional societies. Additionally, the TAG Education Collaborative (TAG's charitable arm) focuses on helping science, technology, engineering and math (STEM) education initiatives thrive.
For more information visit the TAG website at http://www.tagonline.org or TAG's community website at http://www.TAGthink.com. To learn about the TAG-Ed Collaborative visit http://www.tagedonline.org/.