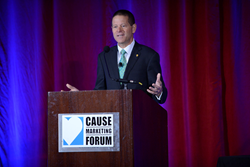 As the world continues to change and new technology is developed, nonprofit organizations must evolve to meet donors where they are. We are dedicated to creating the future in fundraising for local hospitals. - John Lauck
Salt Lake City, UT (PRWEB) June 05, 2014
Children's Miracle Network Hospitals, a charity raising funds for 170 North American children's hospitals, accepted top honors in cause marketing as the nonprofit recipient of Cause Marketing Forum's 2014 Golden Halo Award. CMN Hospitals president and CEO John Lauck accepted the award on behalf of the charity at the Cause Marketing Forum Conference in Chicago on May 28 and 29.
Each year, the Golden Halo Award is presented to one company and one nonprofit that has used collaboration to produce business and social dividends.
Since Lauck began leading the organization in 2011, the charity has seen a 40 percent increase in fundraising by maximizing its existing programs and developing cutting-edge tactics to produce big results for its member hospitals treating sick and injured kids. Growth contributors include the organization's trailblazing internal cause innovation team, new fundraising programs centered on personal fitness and other technology-focused initiatives.
Lauck has also put a strong emphasis on a positive company culture, encouraging innovation and teamwork to discover new ways of raising funds and spreading the message that children's hospitals need community donations.
"It is a great honor to accept this award on behalf of Children's Miracle Network Hospitals," Lauck said. "As the world continues to change and new technology is developed, nonprofit organizations must evolve to meet donors where they are. We recognize this needs to start from within our organization, which is why we've made a culture of progress and innovation a top priority. At Children's Miracle Network Hospitals, we are dedicated to creating the future in fundraising for local hospitals."
The Cause Marketing Forum conference was held on May 28 and 29 at the JW Marriott in Chicago.
###
About Children's Miracle Network Hospitals
Children's Miracle Network Hospitals® raises funds and awareness for 170 member hospitals that provide 32 million treatments each year to kids across the U.S. and Canada. Donations stay local to fund critical treatments and healthcare services, pediatric medical equipment and charitable care. Since 1983, Children's Miracle Network Hospitals has raised more than $5 billion, most of it $1 at a time through the charity's Miracle Balloon icon. Its various fundraising partners and programs support the nonprofit's mission to save and improve the lives of as many children as possible. Find out why children's hospitals need community support, identify your member hospital and learn how you can Put Your Money Where the Miracles Are, at CMNHospitals.org and facebook.com/CMNHospitals.
Contact:
Clint Curry
ccurry(at)cmnhospitals(dot)org
801.214.7400