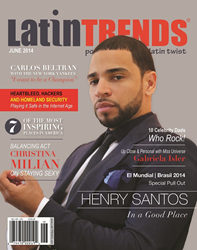 New York, NY (PRWEB) June 07, 2014
LatinTRENDS features 360° integrated marketing solutions via multimedia platforms including Print, Online, Digital, Social Media and Event Marketing.
Henry Santos, former member of the bachata mega group Aventura, is making his own way in the music business, reevaluating his personal life and looking forward to what is shaping up to be a bright and beautiful future. The cover of LatinTRENDS' June issue, Santos shares details about his forthcoming album and the source of his newfound inspiration. This Father's Day, Santos reflects on fatherhood, speaking frankly about his relationship with his father and the relationship he is building with his own three-year-old son.
Juan Guillen, publisher & founder of LatinTRENDS states, "Today, the growth and popularity of bachata music or modern day bachata is a musical movement born out of a cultural revolution. When LatinTRENDS first featured Aventura, back in 2001, we wanted to make a statement. In this case, the statement was rooted in music but realistically rooted in all things that apply to the lives of today's young, bicultural Latinos. Growing up in an environment of biculturalism creates a unique experience because it allows one to have sensitivity to both mainstream America and Latino culture while valuing both. This "cultural revolution" is even more evident when it comes to innovation and the creative process.
This month, LatinTRENDS magazine also includes intimate interviews with the Cuban bombshell Christina Milian; cast member of the Netflix original hit series Orange is the New Black, Jackie Cruz; and the radiant Venezuelan, Miss Universe 2013, Gabriela Isler. These ladies are not only knockouts, but they're smart, talented and proud Latinas.
Need to get away from the day-to-day routine on your life? Need some me time to solve a problem or come up with a big idea? LatinTRENDS' info graphic spread reveals the most inspiring places in America for relaxing, meditating, connecting with the inner self and fueling creativity.
This issue also contains an exclusive interview with New York Met's centerfielder Carlos Beltran. Beltran discusses his upbringing in Puerto Rico and the language barrier he experienced when he first arrived to the states to play professionally. He points out his strong belief that the MLB should provide more assistance for Latino players in this capacity.
Also in this issue, see our ultimate Father's Day Gift Guide and a World Cup pullout presenting each group, game and stadium for this year's Mundial in Brazil!
Download the LatinTRENDS app. Now Available on all iPhones & iPads on the Apple Newsstand App: https://itunes.apple.com/us/app/latintrends-pop-culture-latin/id580536465?mt=8; and on all Androids, via pocketmags.com: http://www.pocketmags.com/viewmagazine.aspx?titleid=1475&title=Latin+Trends.
For more information, please contact Maria Luna at (212) 852-6164 or via email at mluna(at)atintrends.com