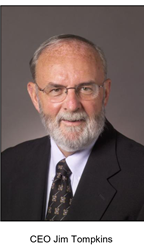 Large players [are] likely to put mom-and-pops out of business en masse.
RALEIGH, NC (PRWEB) June 05, 2014
A new report by financial services firm William Blair & Company features insights and expert predictions from Jim Tompkins, CEO of Tompkins International, on the evolving state of the industrial distribution industry. The report, Winning in the Evolving Industrial Distribution Landscape, highlights the seven big changes affecting the industry, as well as five pillars for success going forward.
"Large players [are] likely to put mom-and-pops out of business en masse," Tompkins says. "The future of the maintenance, repair, and operations [MRO] industry is dominated by several broad, major players and a few specialists who can 'go deep' in a specific category."
The seven major changes that are revolutionizing today's industrial distribution industry include:
1. Online success
2. Technology
3. Social commerce
4. Youth culture
5. Customer service
6. Branch relevance
7. Get local
William Blair & Company published the report to analyze current MRO trends and how companies can best position themselves for success.
To learn more about the future of the industrial distribution space, download the full report.
About Tompkins International
Tompkins International is a professional services firm that provides new solutions for supply chain improvement. Tompkins enables client organizations to be more profitable and valuable, while also becoming more skilled, agile, and adaptive to leading practices. We collaborate with client teams to develop improved operations strategies, supply chain planning, and execution of all the Mega Processes of supply chains (PLAN – BUY – MAKE – MOVE – DISTRIBUTE – SELL). With headquarters in Raleigh, NC, Tompkins also has offices throughout North America and in Europe and Asia. For more information, visit http://www.tompkinsinc.com.
Twitter: @jimtompkins
LinkedIn: linkedin.com/company/tompkins-international
Creating Supply Chain Excellence Blog: tompkinsinc.com/category/blog/