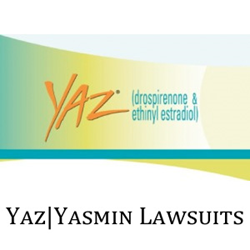 If you believe you have suffered deep vein thrombosis, pulmonary embolism and other dangerous blood clots, due to the use of Yaz or Yasmin birth control pills contact Wright & Schulte LLC at 1-800-399-0795 or visit www.yourlegalhelp.com
Columbus, OH (PRWEB) June 07, 2014
The Yaz lawsuit lawyers at Wright & Schulte LLC, an experienced Nationwide law firm representing the victims of defective drugs, reports court documents indicate there are a total of 11,677 Yasmin and Yaz lawsuits filed in the U.S. District Court, Southern District of Illinois, and of those claims, 9,055 are still pending litigation. The Yaz lawsuits against Bayer Pharmaceuticals, the manufacturer of the oral contraceptive products, have been filed on behalf of women who allege that they experienced deep vein thrombosis, pulmonary embolism, heart attack, strokes, gallbladder disease or death after taking Yasmin or Yaz birth control pills. (In Re: Yasmin and Yaz (Drospirenone) Marketing, Sales Practices and Products Liability Litigation MDL No. 2100, U.S. District Court, Southern District of Illinois)
Richard W. Schulte, a partner with Wright & Schulte LLC, serves on the Discovery and Science Committee for that proceeding. The firm continues to speak with women who believe they have been harmed by Yaz birth control and offers free case evaluations by contacting 1-800-399-0795 or by visiting http://www.yourlegalhelp.com
According to Bayer's newsletter to stockholders, as of October 18, 2013, the company spent about $1.575 billion to settle 7,660 Yasmin and Yaz lawsuits alleging deep vein thrombosis (blood clot in the legs, arms or pelvis) or pulmonary embolism (blood clot in the lung) as a result of taking the prescribed birth control drug. Bayer further stated in its stockholder newsletter for the third quarter of 2013, that these same injuries are also alleged in about 2,300 unsettled lawsuits. In addition to the claims involving blood clots, Bayer has also spent about $24 million to settle approximately 8,800 lawsuits alleging gallbladder injuries from taking the prescription contraceptive products. While Bayer agreed to settle claims, the company said it has not admitted liability.
[stockholders-newsletter-q3-2013.bayer.com/en/explanatory-notes.aspx, Bayer Stockholder Newsletter, October 31, 2013]
While Yaz lawsuits continue to await litigation, one Yasmin lawsuit filed in Cook County Circuit Court in Chicago, Illinois, resulted in a two-week trial that ended on April 18, 2014, when the jury awarded the plaintiff $14 million. The 37-year-old woman alleges in her lawsuit that 13 days after taking Yasmin, she suffered a debilitating stroke that paralyzed her left side and caused profound and permanent brain injury. The woman also contended that her doctor, who is a defendant in the lawsuit, did not disclose the risks associated with taking the birth control drug and should not have prescribed Yasmin to her because she had underlying risk factors. (Case No. 09 L 4061).
Yasmin, also known as "Yaz" is an oral contraceptive made with a synthetic form of progestin called, "drospirenone." In April 2012, the U.S. Food & Drug Administration (FDA) warned that birth control pills containing drospirenone had been associated with an increased risk of blood clots. The labels of Yasmin, Yaz and similar birth controls pills were updated to reflect epidemiologic studies showing as high as a three-fold increase in the risk of blood clots for products containing drospirenone when compared to oral contraceptives that contained other forms of progestin.
[fda.gov/drugs/drugsafety/ucm299305.htm, FDA, April 10, 2013]
Wright & Schulte LLC is already representing numerous young women in Yaz lawsuits, and continues to offer free legal consultations to alleged victims of Yaz and Yasmin side effects. For more information on filing a Yaz lawsuit or to arrange for a free legal consultation, please visit yourlegalhelp.com or call Wright & Schulte LLC at 1-800-399-0795.
About Wright & Schulte LLC
Wright & Schulte LLC, an experienced personal injury firm, is dedicated to the belief that America's legal system should work for the people. Every day, the attorneys of Wright & Schulte LLC stand up for the rights of people who have been injured or wronged and fight tirelessly to ensure that even the world's most powerful corporations take responsibility for their actions. If you're looking for a law firm that will guarantee the aggressive and personal representation you deserve, please do not hesitate to contact Wright & Schulte LLC today. Free Yaz and Yasmin lawsuit case evaluations are available through yourlegalhelp.com or by calling 1-800-399-0795.
Contact:
Wright & Schulte LLC
812 East National Road
Vandalia, Ohio 45377
1-800-399-0795
http://www.yourlegalhelp.com
Like us on Facebook
Follow us on Twitter