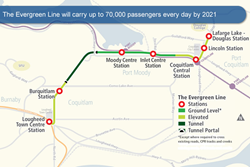 "For a single-family home that needs to be rezoned, the price will double. For a vacant lot that's already zoned for multiple families, the price increases about 25 per cent."
Vancouver, British Columbia (PRWEB) June 10, 2014
Richard Wozny, Principal and real estate analyst of Site Economics Ltd in Vancouver said that "Based on dozens of studies, there's a hard and fast rule. For existing buildings, such as condo towers in the area, the price will go up about 5 per cent when a rapid transit station enters the picture. For a single-family home that needs to be rezoned, the price will double. For a vacant lot that's already zoned for multiple families, the price increases about 25 per cent."
Many homeowners in parts of Burnaby, Coquitlam and Port Moody are wondering if the Evergreen Line will increase the value of their homes and investments properties. Condo prices have remained quite stable for the past 5 years, but the average price of single family houses has gone up from $720,000 in 2009 to $963,000 this year, according to Landcor Data Corp.
Homes in these areas are becoming more attractive with the Evergreen Line's completion drawing nearer. Home buyers, including condo buyers, are displaying additional interest in the area.
On May 16th, Kerry Gold from the Globe and Mail reported that the Evergreen Line will connect residents of Port Moody and Coquitlam with downtown Vancouver with a transfer at Lougheed Station. The new transit line will also link the suburban districts to Simon Fraser University, which is drawing the attention of parents who wish to register their children.
Eddie Yan has specialized in Burnaby real estate for over 20 years. Today he said that, "The expansion of the Evergreen Line is not only going to increase property values in the Burnaby, Coquitlam and Port Moody areas, it will also create more jobs and business opportunities. The economic benefits will be exponential for years to come."
Eddie Yan provides real estate services throughout Burnaby, Vancouver, and the Lower Mainland of BC. You can visit his website for more information: http://www.eddieyan.ca