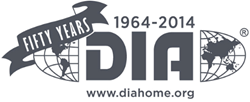 "DIA is giving us the ability to 'put a face on' the rarity, and has made listening to patients' voices a core priority," Coakley said. "These new connections are beyond priceless."
Washington, DC (PRWEB) June 06, 2014
The 2014 DIA patient fellows illustrate the power of patient advocacy.
A Parkinson's disease patient is the driving force in the success of clinical trials, recruiting patients and transporting them to research sites while saving researchers thousands of dollars. A patient with a rare ailment that went undiagnosed for 40 years works hand in hand with researchers to develop a treatment. A widow whose husband wasn't diagnosed until after his death founded an organization that raises funds to pioneer research into his disease.
The DIA 2014 50th Annual Meeting, to be held June 15 to 19 at the San Diego Convention Center, will give 18 patient fellows the chance of a lifetime to share the obstacles they faced in seeking diagnoses and treatments and to interact with those working in all arenas of drug development. Patient fellows will walk away with a better understanding of the drug development process and the ways they can work with clinical trial researchers, pharmaceutical companies and regulators. They also will learn what their peers at other advocacy organizations are doing to advance treatments.
"DIA's work to strengthen collaboration between patient advocates and with global industry professionals, decision-makers and researchers is unparalleled. The annual meeting will bring these patient advocates to the head of the table where open dialogue can be exchanged," said DIA Global Chief Executive Barbara L. Kunz. "I invite everyone at the meeting to use this vital opportunity to engage with, listen and learn from compelling DIA patient fellows."
Diagnosed with early-onset Parkinson's at age 48 in 2005, Steven DeWitte, from New Preston, Conn., began renting a van to transport Parkinson's patients to participate in clinical trials in New York City and Boston. About 80 percent of proposed clinical trials for Parkinson's are delayed or canceled because patients are reluctant to participate. DeWitte promises trial participants a ride, fellowship and lunch, prescreening them to make sure they are appropriate candidates. Columbia University researchers are amazed that such a simple solution is saving them time, as well as the thousands of dollars they typically spend recruiting patients.
"Parkinson's disease makes it difficult for patients to enroll in clinical trials—we are nervous about what's going to happen when we get to a trial, we don't want to go alone and we wake up every day with challenges. Participating in a trial with a group of your peers makes the experience less threatening," DeWitte said. "I tell them, 'Come with me to this trial. You'll help me through it, and I'll help you through it. We are in this together."
"I'm a big believer that common thoughts build ideas. The DIA Annual Meeting will connect me with those who share my issues as a patient and those who are in a position to help us."
Playing "stump the docs" with medical students during his visits to the National Institutes of Health (NIH) and the University of Maryland may make light of John Coakley Sr.'s search for what caused his muscles to weaken, yet he uses his experience—and a sense of humor—to support patients and drive research. After more than 50 years of symptoms, Coakley, 71, was diagnosed with Kennedy's disease. The Taneytown, Md., resident became president of the Kennedy's Disease Association and provided the sole patient perspective to secure a clinical trial at NIH for a new drug developed by Novartis. The trial may result in the first treatment for the inherited neuromuscular disorder, and he muses about his experiences with a rare disease on his blog, "Coakley's Corner."
"DIA is giving us the ability to 'put a face on' the rarity, and has made listening to patients' voices a core priority," Coakley said. "These new connections are beyond priceless."
As her husband's years-long undiagnosed condition grew more serious, Kathy Brewer of DeRidder, La., reached out to doctors around the U.S. for an explanation, yet most had never heard of the ultra-rare disease that would take his life. His autopsy finally provided a name: Erdheim-Chester disease (ECD). Now, as founder and president of the ECD Global Alliance, Brewer leads the organization in securing hundreds of thousands of dollars in grants for the study of ECD.
"I know what it is like to helplessly watch someone you love die without a diagnosis, and I'm committed to making a difference in the lives of those who are suffering," Brewer said. "In attending the DIA Annual Meeting, I expect to be able to better explain to ECD patients why clinical trials are important, more effectively influence research collaborations, and enhance my ability to communicate and advocate for those affected by rare disease."
ABOUT DIA: DIA is the global connector in the life sciences product development process. Our association of more than 18,000 members builds productive relationships by bringing together regulators, innovators and influencers to exchange knowledge and collaborate in a neutral setting. DIA's network creates unparalleled opportunities for the exchange of knowledge and has the interdisciplinary experience to prepare for future developments. DIA is an independent, nonprofit organization with its global center in Washington, D.C., USA, and regional offices covering North and South America (Horsham, Pa., USA); Europe, North Africa and the Middle East (Basel, Switzerland); and Japan (Tokyo), India (Mumbai) and China (Beijing). For more information, visit http://www.diahome.org.
ABOUT DIA's 2014 50th ANNUAL MEETING: Celebrate the Past – Invent the Future is the largest multidisciplinary event that brings together a community of life sciences professionals at all levels and across all disciplines involved in the discovery, development and life cycle management of medical products. The meeting aims to foster innovation that will lead to the development of safe and effective medical products and therapies for patients. For more information, visit http://www.diahome.org/dia2014.