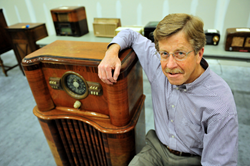 I applaud SLCC's dedication to preserving this important part of media history. I fear that not many colleges would take this on, and for SLCC to have one of FDR's Fireside Chat mics, well, that's pretty fantastic.
(PRWEB) June 09, 2014
On March 4, 1933, Americans huddled around radios in their homes to hear Franklin D. Roosevelt utter the famous words, "… the only thing we have to fear is … fear itself …" during his 20-minute inaugural address as the 32nd president.
Only 30 years earlier, the technology inside what would be called the "radio" was being transformed into a device that would change the way people around the world consumed news and were entertained.
With nothing but a voice being piped through speakers and a listener's imagination, radio is still considered by some today as a preferable medium for storytelling over anything you'd see on a movie or television screen.
Paying homage to the history of radio, Salt Lake Community College is displaying 30 pieces from its varied collection of old radios and electronics numbering in the hundreds. The public is invited to view the display at SLCC's South City Campus, 1575 South State Street, Salt Lake City, from June 10 to 24 in the George S. and Dolores Dore Eccles Art Gallery of the Center for Arts and Media.
"In my classes, students learn that media are changing and distribution channels are evolving," said SLCC Communications associate professor Nick Burns. "And that includes history, from early colonial newspapers to the rise of radio and TV, to now the web and beyond. This radio collection solidifies for students the concrete history of mass media."
The late P.R. McIntyre collected the radios from the 1920s into the 1950s at his radio sales and service shop, Mac's Radios. The McIntyre's family donated the collection to KSL Radio, where P.R. McIntyre also worked. KSL donated the collection to Brigham Young University, which eventually turned it over to SLCC. Most of the radios were manufactured between 1915 and 1950 and include brands like General Electric, Philco, Victor, Atwater-Kent, Olympic, Motorola and Crosley.
The collection also includes phonographs, television sets, wire and tape recorders, headphones, old speakers, microphones and Dictaphones. SLCC's goal is to have a series of rotating exhibits that make the entire McIntyre collection available for public viewing.
"I applaud SLCC's dedication to preserving this important part of media history," Burns said. "I fear that not many colleges would take this on, and for SLCC to have one of FDR's Fireside Chat mics, well, that's pretty fantastic."