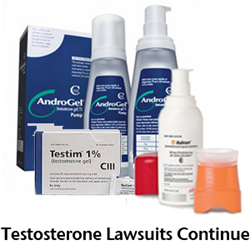 If your believe you have suffered cardiovascular problems due to Androgel, Testim, Androderm or other Testosterone Treatment Drugs Call Wright & Schulte today for a Free Legal Evaluation at 1-800-399-0795 or by visiting www.yourlegalhelp.com
Columbus, OH (PRWEB) June 07, 2014
According to Wright & Schulte LLC the U.S. Judicial Panel on Multidistrict Litigation's (JPML) issued a Transfer Order on June 6, 2014, the court ordered an industry wide consolidation of all testosterone therapy lawsuits currently pending in courts across the country to the U.S. District Court of Illinois (MDL2545). These testosterone therapy complaints include 45 low testosterone therapy lawsuits pending in four different federal courts across the country. The testosterone complaints were filed on behalf of plaintiffs or their survivors who alleged that they, or their loved one, suffered heart attacks, strokes, or other life-threatening cardiovascular problems after taking low testosterone medications. The consolidated lawsuits names as defendants, AbbVie Inc. and Abbot Laboratories, Eli Lilly and Co., Endo Pharmaceuticals, Actavis Inc., Auxilium Pharmaceuticals Inc., Pfizer Inc. and Pharmacia & Upjohn Co., all of which manufacture testosterone replacement products. (In Re: Androgel Products Liability Litigation, MDL 2545)
Court records indicate that filings of Testosterone lawsuits against the makers of AndroGel, Testim, and Androderm increased after the U.S. Food & Drug Administration (FDA) announced in January 2014 that it was re-evaluating the safety of all FDA-approved testosterone replacement therapy products. This announcement was based on testosterone treatment studies reviewed by the FDA that showed testosterone treatment therapy drugs such as AndroGel and Testim may increase the risk of heart attacks, strokes and death in older men and in men with pre-existing heart issues who use the medication. Just days after the FDA announcement, four testosterone treatment lawsuits were filed in federal court in Illinois against the manufacturers of AndroGel alleging the plaintiffs suffered heart attacks and strokes due to the testosterone treatment drug. (Aurecchia v. AbbVie Inc., 14-cv-00772; Benn v. AbbVie, 14-cv-00774; Gallagher v. AbbVie Inc., 14-cv-00776; Marino v. AbbVie Inc., 14-cv-00777 and Myers v. AbbVie Inc., 14- cv-00780; U.S. District Court, Northern District of Illinois) [fda.gov/Drugs/DrugSafety/ucm383904.htm, January 31, 2014]
The firm continues to speak with men who believe they have suffered cardiovascular side-effects from low testosterone therapy drugs such as AndroGel, Androderm and Testim. To speak with a testosterone therapy lawsuit attorney to receive a free consultation contact Wright & Schulte LLC at 1-800-399-0795 or visit http://www.yourlegalhelp.com. You can also follow all the latest lawsuit news on our facebook page or twitter feeds.
According to the JPML's Transfer Order, the panel is "typically hesitant to consolidate litigation on an industry-wide basis." However, in this instance, the judicial panel felt "it is the best solution," given the plaintiffs suggesting that related testosterone cases will "number in the thousands." The Transfer Order further said that centralizing the claims will reduce potentially costly expert discovery and reduce inconsistent rulings. According to the JPML, Northern Illinois was chosen as the transfer location because there are already 37 AndroGel lawsuits filed in the federal court there.
The JPML's order is also an answer to previously filed requests for consolidation of testosterone therapy lawsuits. A motion filed in March 2014, by a dozen plaintiffs in AndroGel lawsuits asked to consolidate 38 AndroGel lawsuits in the federal court in Northern Illinois. (In Re: AndroGel Product Liability Litigation, MDL Docket No. 36) The following month, plaintiffs in a similar testosterone lawsuit asked the JPML to consolidate 50 testosterone lawsuits involving Androderm, AndroGel, Axiron, Delatestryl, Depo-Tesosterone, Fortesta, Striant, Testim and Testopel to the U.S. District Court, Eastern District of Louisiana. (In Re: Testosterone Products Liability Litigation, No. 42, JPML)
In addition, the NY Times has reported, Doctors are also calling for more research on testosterone replacement therapy since they find current research inconclusive, and leaves them with uncertainty about how to effectively treat men who suffer from low testosterone due to an underlying medical condition or injury.
[latimes.com/science/sciencenow/la-sci-sn-testosterone-supplement-debate-20140428-story.html, April 28, 2014]
Men who used AndroGel, Testim, Androderm or a similar drug may be eligible to file their own low testosterone therapy lawsuit if they experienced serious and life-threatening cardiovascular events during treatment. To learn more, or to arrange for a free legal consultation with an attorney at Wright & Schulte LLC, please visit yourlegalhelp.com.
About Wright & Schulte LLC
Wright & Schulte LLC, an experienced personal injury firm, is dedicated to the belief that America's legal system should work for the people. Every day, the attorneys of Wright & Schulte LLC stand up for the rights of people who have been injured or wronged and fight tirelessly to ensure that even the world's most powerful corporations take responsibility for their actions. If you're looking for a law firm that will guarantee the aggressive and personal representation you deserve, please do not hesitate to contact Wright & Schulte LLC today. Free Lipitor lawsuit case evaluations are available through yourlegalhelp.com or by calling 1-800-399-0795.
Contact:
Wright & Schulte LLC
812 East National Road
Vandalia, Ohio 45377
1-800-399-0795
http://www.yourlegalhelp.com
Like us on Facebook
Follow us on Twitter