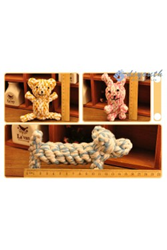 (PRWEB) June 08, 2014
Diyouth.com is a well-known online supplier, and it has many kinds of great items for sale. Recently, the company has proudly unveiled its new designs of cute rubber pet toys. Now, all these toys come with eye catching promotional offers.
All the company's new rubber pet toys are inexpensive, while each of them is of superb quality. Diyouth.com is a perfect place for customer who want to get trendy special occasion outfits and useful daily items. The company's marketing specialist says that all new and old clients can get a discounted rate, up to 28% off. In addition, it also offers an enjoyable and secure buying process for all people.
The company really wants to make things more convenient and economical for worldwide clients. All its rubber pet toys are really affordable and worth it. These cute items come in various striking colours and exquisite patterns.
The best-selling items in the company's new collection are: Cute Animal Cotton Rope Pet Toys (SKU: DIYPE-60479), Colorful Bell Twisted Ball Sound Pet Toys (SKU: DIYPE-60475), Shipping Comfortable Bone Sharp Pet Toys (SKU: DIYPE-60482) and Dog Food Ball Free Shipping Pet Toys (SKU: DIYPE-60295). All these products are made from high quality materials, and most of them come with free shipping costs.
About Diyouth.com
Diyouth.com is a professional online supplier in the international market; its products are popular among worldwide ladies. The company has thousands of enchanting wedding dresses and women's special occasion gowns for sale. Customers can find many different designs at its website. Also, it is also well-known for its considerate online service and rapid delivery.
For more detailed information about its unique products, please visit http://www.diyouth.com/pet-toy.html.