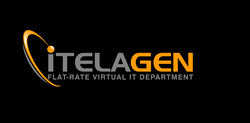 Jersey City, NJ (PRWEB) June 10, 2014
ITelagen, Inc., a leading, innovative provider of IT and EHR support and EHR cloud-based hosting for healthcare, announces that they will be exhibiting at the 2014 Tribal Health NextGen Consortium Conference.
The 8th Annual Tribal Health NextGen Consortium (THNC) Conference will be held June 17th – June 19th in Tulsa, Oklahoma with the goal of bringing together all tribal clients of NextGen Healthcare. The conference is sponsored by Muscogee (Creek) Nation Department of Health in conjunction with the Tribal Health NextGen Consortium (THNC), California Rural Indian Health Board Inc., and NextGen Healthcare. THNC expects all 38 tribes to be represented and has extended invitations out to many other tribal organizations nationwide. THNC will be offering session topics including, but not limited to, IT, Meaningful Use, ICD-10 and NextGen Training.
ITelagen's Chief Executive Officer, John O'Keefe, will be speaking during the Information Technology Break Out Session focusing his time with attendees on the benefits of cloud-based hosting for medical practices and will provide additional information on ITelagen Support and Services available for NextGen clients.
Chad Lynch, Regional VP of Sales for ITelagen, says, "It is imperative that we support the Tribal Health NextGen Consortium Conference and represent a successful partnership between ITelagen and the tribes. As a NextGen Partner, we feel that our support and services are a valuable compliment to all tribal health organizations, both current and prospective NextGen clients. Education and networking is not only key to our fundamental business, but our services are an essential part of our client's success with NextGen."
ITelagen is also a leading provider of healthcare IT support and system administration and provides a range of IT and EHR support services including professional services, training, and hosting. ITelagen provides unlimited onsite and remote technical support for businesses, and the platform monitors the activity of servers 24/7 to ensure the security of client applications. Its cloud-based system supports and manages patients' EHRs, as well as assists with coding and billing records, medical and insurance claims, and categorizing insurance collections. ITelagen also provides disaster recovery, and related services to update and back up data.
About ITelagen:
ITelagen® redefines Healthcare IT for medical practices by providing electronic health records (EHR) as part of an entire back-office solution that includes unlimited onsite & remote technical support for all of your staff and secure hosting of your patient data. We are more than just desktop technicians, but a complete healthcare technology team made up of CIO's, engineers, and healthcare EHR experts. With ITelagen, you can have all the benefits of your very own fully-staffed IT Department, without the expense of an in-house staff. By combining certified EHR experts with IT and hosting, ITelagen becomes the single point of contact and "One-Stop Shop for EHR®" for IT and EHR infrastructure, all for a flat monthly subscription fee. For more information, visit ITelagen on the Web at http://www.itelagen.com. Follow ITelagen on Twitter at https://twitter.com/ITELAGEN, Facebook at http://www.facebook.com/itelagen, or LinkedIn at http://www.linkedin.com/company/itelagen.
Contact:
Emile Ondrus
ITelagen, Inc.
201-239-8405
press(at)itelagen(dot)com