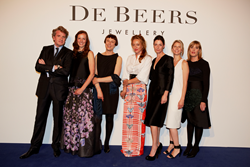 "It is truly a project for women, by women, where we wanted to express through their 'Moments in Light' our own soul which is about revealing the brilliance of women and of diamonds." -François Delage, CEO of De Beers Diamonds Jewellers
London, UK (PRWEB) June 10, 2014
De Beers, The Jeweller of Light, celebrates talented and inspiring women through a series of portraits created by photographer Mary McCartney. 'Moments in Light' captures their spirit in light and provides a platform to share their unique stories and natural beauty with women all over the world. This is an important project for the brand, engaging women through this emotional project, and through it supporting Women for Women International.
The 'Moments in Light' exhibition was unveiled on June 5th at The Royal Academy of Arts with a cocktail followed by dinner prepared by one of the selected talented women, Skye Gyngell. An array of fresh flowers hanging from the ceiling creating a meadow-like appearance welcomed guests to the venue. De Beers unveiled the 1888 Master Diamonds, showcasing a selection of coloured diamonds of exceptional character. Intensely individual and expressive, these ravishing rarities are prized as works of art. Also displayed were De Beers' Creative Solitaires, spectacular statement pieces of outstanding skill in craftsmanship and design. The mood of the evening was set by another female talent, DJ Tabitha Denholm.
In this first series, beautiful portraits of contemporary artist and sculptor Cornelia Parker OBE, celebrated fashion designer Alice Temperley MBE, world renowned dancer and chorographer, Aszure Barton, artist and photographer, Chen Man and Michelin star chef, Skye Gyngell give a tantalizing insight into their lives, careers and inspirations. In a series of short films, each woman talks about her journey, her craft and her 'Moment in Light', a particular moment in time, which inspired her to succeed and that became possible through the support of others.
Mary McCartney comments: "Selecting such an exciting array of talent for Moments In Light has been a real journey and a great project to work on with De Beers. Each woman has inspired me with their passion, enthusiasm and creative flare. It has been an honour to photograph them, to curate this unique project and in doing so, to support Women for Women International. It's a very exciting project for me to reveal these talented women in a new light."
François Delage, CEO of De Beers Diamonds Jewellers, commented, "Moments in Light is a really special project for us, as by celebrating talented women we are both inspiring women to be proud of their own achievements as well as helping women in difficult situations around the world through Women for Women International. It is truly a project for women, by women, where we wanted to express through their 'Moments in Light' our own soul which is about revealing the brilliance of women and of diamonds. Working with Mary McCartney has been both effortless and beautiful as we instantly had the same understanding and vision for the project, its featured women and the way to express them."
To celebrate the launch of 'Moments in Light', De Beers have unveiled the 1888 Master Diamonds & Creative Solitaires that showcase 125 years of diamonds mastery and the unique artistry of De Beers. Each distinctive piece in the remarkable 1888 Marter Diamonds showcases a coloured diamond of exceptional character. The elaborate designs of the De Beers Creative Solitaires are statement pieces, all emblematic of De Beers Diamond Jewellers as they seek to harness the light, channelling it through the diamond.
Brita Fernandez Schmidt, Executive Director, Women for Women International UK, comments, "I am inspired by the De Beers 'Moments in Light' campaign and so grateful to the incredible women taking part in the initiative. With the help of De Beers, 150 women survivors of war and conflict will go through the Women for Women International year-long programme. They will learn new skills and gain the confidence and knowledge that will allow them to rebuild their lives. In turn, they will improve the lives of their families and inspire other women to believe in themselves. 'Moments in Light' will give hope and opportunities to women who are otherwise often forgotten."
Discover the stories at: momentsinlight.co.uk
http://www.debeers.com
ABOUT DE BEERS
De Beers, the Jeweller of Light, creates timeless treasures that reveal and celebrate the wondrous brilliance of women and diamonds. As the definitive destination for diamond jewellery, we have a quest for inner beauty, bringing lightness, femininity and delicacy to our sublime diamond jewellery.
Drawing on diamond mastery since 1888, De Beers hand-select each diamond for its unique beauty to capture unmatched Fire, Life, and Brilliance. Each unique De Beers creation is the culmination of wondrous artistry and the true beauty of the finest diamonds.
De Beers Diamond Jewellers was established in 2001 as an independently managed and operated company by LVMH Moët Hennessy Louis Vuitton, the world's leading luxury products group, and De Beers SA, the world's premier diamond mining and marketing company.