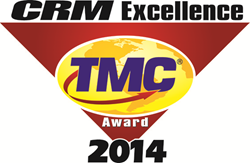 The 15th Annual CRM Excellence Awards has recognized Benbria for driving innovation in the field of mobile customer engagement.
(PRWEB) June 10, 2014
Benbria®, a leading provider of hosted mobile customer engagement solutions, announced today that TMC, a global, integrated media company, has named Loop® Mobile Customer Engagement as a recipient of a 2014 CRM Excellence Award, presented by CUSTOMER magazine.
"The 15th Annual CRM Excellence Awards has recognized Benbria for driving innovation in the field of mobile customer engagement," said Rich Tehrani, TMC's CEO and Group Editor-in-Chief. "Loop enables brands to drive operational excellence by better connecting them with their customers at the decisive moment in their experience. These real-time connections give brands the opportunity to satisfy customer needs on-the-spot which creates a deeper personal connection between employees and customers."
"We are honored to be chosen for a CRM Excellence Award by Customer Magazine." said Andrea Baptiste, CEO, Benbria. "As an operational and real-time communications tool, Loop empowers brands to proactively act on customer concerns, suggestions and requests, resulting in higher same-store sales and a superior customer experience that goes above and beyond their competitors."
Loop® Mobile Customer Engagement
Loop helps companies forge stronger bonds with their customers. Real-time communications and operational improvements help brands realize the following benefits:

Retailers Improve In-store Sales Conversion – Loop helps omnichannel retailers engage and communicate with in-store buyers, showroomers and non-buyers. Connecting associates with shoppers via their mobile device at the decisive moment in the shopping experience helps retailers convert more sales. These live interactions uncover operational issues that hinder the shopper experience and give brands the opportunity to drive new levels of satisfaction.
Hotels Increase Guest Satisfaction & Loyalty – Loop helps hotels to deliver a superior guest experience by giving guests the ability to use their smart device to make requests and provide feedback on any aspect of their stay. Hotels connect with guests privately and resolve issues before they reach social media. Real-time action helps hotels increase bookings and recover at-risk guests by overcoming negative experiences and drawing out positive reviews.
Restaurants Increase Same-Store Sales – Loop helps brands operate better restaurants by focusing staff attention on the customer's experience. Instead of reacting to aggregated receipt-based feedback, brands have the opportunity to connect customers with staff and resolve their concerns before they leave the restaurant. Brands can use real-time customer input to motivate employees and improve operations before the next customer walks into the restaurant.
While Loop is operationally unique in its ability to collect, track and direct actionable customer experience data in real time to front-line staff for action and closure, it also empowers brands with detailed analytics. Real-time reports measure the employee's speed of first response and time-to-close on customer comments, as well as staff's product knowledge, service quality and friendliness – ultimately holding employees accountable to ensuring a consistent and optimal customer experience across all locations.
Based on hard data, the CRM Excellence Awards rely on facts and statistics demonstrating the improvements that the winner's product has made in a client's business. Winners were chosen on the basis of their product or service's ability to help extend and expand the customer relationship to become all encompassing, covering the entire enterprise and the entire lifetime of the customer.
The 2014 CRM Excellence Award winners can be found in the May issue of CUSTOMER magazine.
About Benbria
Benbria is a leading provider of hosted mobile customer engagement solutions. Our flagship product – Loop® – is a real-time communications and onsite operational solution that empowers national retail, hotel and restaurant brands to improve customer satisfaction, foster positive online reviews and drive operational excellence. Using a variety of mobile, in-store and on-property technologies – including SMS, email, Web, mobile app and kiosk – Loop helps brands to capture and direct real-time customer requests, concerns, suggestions and positive input to management and employees for action and closure. Closing the loop through on-the-spot staff action helps brands to save dissatisfied customers, improve in-store sales conversion rates and foster positive reviews. For more information: http://www.benbria.com.
About CUSTOMER
Since 1982, CUSTOMER magazine (formerly Customer Interaction Solutions) has been the voice of the call/contact center, CRM and teleservices industries. CUSTOMER has helped the industry germinate, grow, mature and prosper, and has served as the leading publication in helping these industries that have had such a positive impact on the world economy to continue to thrive. Through a combination of outstanding and cutting-edge original editorial, industry voices, in-depth lab reviews and the recognition of the innovative leaders in management and technology through our highly valued awards, CUSTOMER strives to continue to be the publication that holds the quality bar high for the industry. Please visit http://www.customer.tmcnet.com.
About TMC
TMC is a global, integrated media company that supports clients' goals by building communities in print, online, and face to face. TMC publishes multiple magazines including Cloud Computing, M2M Evolution, Customer, and Internet Telephony. TMCnet is the leading source of news and articles for the communications and technology industries, and is read by as many as 1.5 million unique visitors monthly. TMC produces a variety of trade events, including ITEXPO, the world's leading B2B communications event, as well as industry events: 3D Printing Conference & Expo; Asterisk World; AstriCon; (CVx) ChannelVision Expo; Cloud4SMB Expo; DevCon5 - HTML5 & Mobile App Developers Conference; M2M Evolution Conference & Expo; Mobile Commerce Zone Conference & Expo; SecureIT; StartupCamp; Super Wi-Fi Summit; SIP Trunking-Unified Communications Seminars; Wearable Tech Conference & Expo; WebRTC Conference & Expo; and more. Visit TMC Events for additional information.
For more information on TMC, visit http://www.tmcnet.com.
Media Contact:
Tony Busa
Benbria Corporation
+1-613-271-5970, ext. 1123
tony.busa(at)benbria(dot)com
TMC Contact:
Rebecca Conyngham
Marketing Manager
203-852-6800, ext. 287
rconyngham(at)tmcnet(dot)com
Benbria, Loop, Get in the Loop, and Keep Us in the Loop are trademarks of Benbria Corporation. All other trademarks are the property of their respective owners.