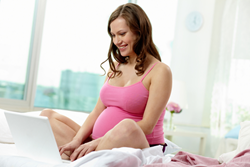 With over 4 million monthly visitors, it is imperative to make the site as useful and helpful as possible. Without the collaboration of health care providers, mothers and families might not find the help they need
Irving, TX (PRWEB) June 10, 2014
The American Pregnancy Association launched a new website with the intention of helping potential and expecting mothers and families get connected to the health care providers who can help them have healthier and more positive pregnancies and birth experiences.
Expecting mothers and their partners frequently think about their obstetrician for their care, however, many don't realize there are over 25 different health care provider types available to help with reproductive wellness.
There are providers committed to fertility and conception success, those focused on pregnancy wellness, others targeting the birth process, and providers who help with breastfeeding and newborn care. Doulas, chiropractors, lactation consultants, child birth educators, acupuncturists, infertility specialists, and midwives are just some of the providers invested in reproductive health.
The American Pregnancy Association is committed to helping mothers and families find the services they need for the varying steps of their pregnancy journey. "Knowing the type of service they need is easy, the challenge is finding the health care providers to get her connected that will meet her needs," explains Dr. Brad Imler, American Pregnancy Association President.
"We have placed our health care provider tool on every page of the site, making it easier for expecting mothers to get access," Imler added, "Now we just need to enlist the providers into the referral resource so they find them."
Potential and expecting moms can select a health care provider type, insert their zip code and hit search to find providers in their areas. Providers can use the same search tool to see if their services are available for new moms to find.
Dr. Imler noted, "With over 4 million monthly visitors, it is imperative to make the site as useful and helpful as possible. Without the collaboration of health care providers, mothers and families might not find the help they need."
The free Ovulation Calendar, Pregnancy Calculator and Pregnancy Week by Week Newsletter are on the site serving families today. The health care provide zip code search tool will make the site even more effective by helping families find the provider they need.
The website, American Pregnancy Association, is the best place for providers and expecting moms to start. However, the Association also providers referrals to potential and expecting mothers through a helpline at (800) 672-2296.
The American Pregnancy Association is a nonprofit organization operating under the tax-ID 32-0072669. The Association is committed to promoting healthy pregnancies through education, advocacy and community awareness.