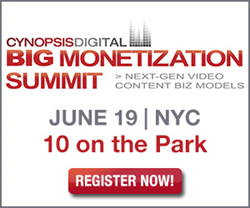 New York, NY (PRWEB) June 10, 2014
Cynopsis Digital has announced a new afternoon presentation focusing on the OREO mobile app campaign at its Big Video Monetization Summit - Next Gen Video Content Biz Models, on June 19 in New York City. This is the industry's gateway to the must-have insights on the most current business models for the digital world.
The session speaker, Guy Horrocks, is CEO of Carnival Mobile and worked directly with Mondelez International on the "Twist, Lick, and Dunk" OREO mobile app campaign and the tactics that have contributed to its ongoing success. According to Carnival, it's the world's first cash-flow positive marketing campaign, and the most successful app ever. Over its 20-month life, the app has been downloaded more than 5,000,000 times and to this day has over 500,000 active users.
On June 19, also hear speakers from Collective Digital Studio, Comcast/Xfinity, OMD, FreeWheel, Google, Hello Products, HIRO, IAB, Ipsos MediaCT, New Form, POPSUGAR, Spark, Time, Inc, TruthCo., xAd, Inc., YuMe and more, reveal best ways to create, distribute, measure and monetize this surge of digital production.
The Summit will be held at 10 on the Park at the Times Warner Center in Manhattan and include an informal lunch and networking breaks. For details, please visit http://www.cyndigitalmonetization.com/
For questions about registration, contact Pete Romas at pete(at)cynopsis(Dot)com or visit the summit webpage. For sponsorship information, contact Vice President of Sales and Marketing Mike Farina at mike(at)cynopsis(dot)com.
About Cynopsis Media
Cynopsis Media is a division of Access Intelligence LLC. The Cynopsis Media family of products includes Cynopsis, Cynopsis Digital and Cynopsis Sports daily e-publications, weekly Cynopsis Kids and Cynopsis Classified Advantage e-publications, Special eReports, Event/Summits and a strong database of Classifieds and more. Visit the new & improved cynopsis.com.