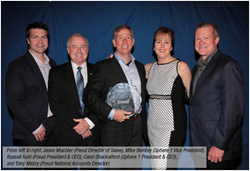 (PRWEB) June 11, 2014
Freud America, Inc. (Freud)/Diablo was awarded the 2014 Accessory Supplier of the Year from Sphere 1, a cooperative of independent tool, fastener, and concrete accessory distributors. This esteemed award was given to Freud/Diablo during Sphere 1's Annual Member Meeting in San Antonio, TX in recognition for Diablo's performance in sales, service, program execution and product innovation.
Freud/ Diablo received the award over 86 other Sphere 1 preferred suppliers. The Accessory Supplier of the Year Award is one of Sphere 1's top honors and is awarded to the accessory organization that ranks highest overall across all six criteria, including sales volume increase over the previous year, growth percentage, number of members purchasing from the supplier, completion of Gateway for Growth Programs and Sphere 1 University student course completions in 2013.
"The Sphere 1 Cooperative was very pleased to announce that Freud America has been named Accessory Partner of the Year 2013 at our San Antonio annual meeting last week," stated Sphere 1 President & CEO Carol Shackelford. "Freud will have the opportunity to present their company and product offering to all attending members at our next May meeting which will be held at the Red Rock Resort in Las Vegas (May 4-7, 2015). Congratulations to Team Freud!"
"Sphere 1's recognition of Freud/Diablo as Accessory Supplier of the Year is a great honor and we thank the Sphere 1 membership for this highly coveted recognition," stated Russell Kohl, President & CEO of Freud America, Inc. "Freud/Diablo will continue its mission to offer the most innovative cutting solutions with premium performance as well as superior customer service."
About Diablo
Diablo is the premium brand of contractor tools specifically designed to provide superior performance while withstanding the most extreme conditions for the contractor. Diablo is produced by Freud America, Inc, a manufacturer of high quality woodworking tools for the last 60 years and a leader in the carbide cutting tool industry. Freud is the only manufacturer of woodworking tools in the world that produces its own MicroGrain Carbide with Titanium, called TiCo™ Hi-Density carbide. By producing our own carbide, we have the unique ability to formulate each tool for each specific application; thereby maximizing the cutting life and performance of the tool and ultimately saving the professional contractor time and money. Diablo's full line of high-quality cutting tools includes saw blades, reciprocating saw blades, bonded and coated abrasives, and router bits. For more information, visit http://www.diablotools.com. You can also follow Diablo on Facebook (http://www.facebook.com/diablotools), or view product and demonstration videos on our YouTube channel (http://www.youtube.com/diablotools).