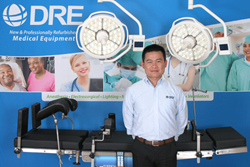 Louisville, KY (PRWEB) June 12, 2014
DRE, Inc. — a premiere medical and surgical equipment provider — has opened a new China office to facilitate growth in the greater Asia-Pacific region.
DRE International serves medical professionals and distributors in more than 150 countries with an established presence in Latin America, the Middle East, Africa, Europe and Southeast Asia.
"The new office location and partnership will accommodate DRE's growth and ability to support the demands of the rapidly growing Asia-Pacific market," said Chris Padgett, Senior Vice President of Sales at DRE.
Kevin Yang will be leading the Asia-Pacific team and will work closely with DRE's corporate offices in Louisville, Ky.
Yang has years of experience in the region and understands the opportunities the developing economies represent. He says that DRE's ability to innovate, be flexible, and embrace change will allow it to better serve healthcare facilities in the region and creates strategic advantages for future expansion.
About DRE
Since 1984, DRE has worked to be a single supplier for all major operating room equipment and surgical equipment. Inc. magazine named DRE, Inc., a premier surgical and medical equipment supplier, to its annual Inc. 5000 list of the nation's fastest-growing private companies for three consecutive years.