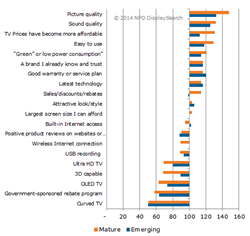 To improve market success, TV brands need to not only focus on improving the features that resonate with consumers, but also on clearly communicating those benefits.
Santa Clara, Calif. (PRWEB) June 11, 2014
Consumers worldwide still consider picture quality, sound quality, price, and ease of use to be most important to their upcoming replacement TV purchase decisions. According to the NPD DisplaySearch 2014 Global TV Replacement Study, picture quality is the most important feature for consumers in mature markets making an upcoming replacement TV purchase, with an importance index of 148. Sound quality follows closely, with an index of 132 (the index compiles responses rating a driver "important" or "most important"; scores above 100 indicate relatively high importance). Price and ease of use ranked nearly as high as sound quality in mature markets, but in emerging markets having a good warranty or service plan ranked higher than both of those.
"To improve market success, TV brands need to focus not only on improving the features that resonate with consumers but also on clearly communicating those benefits," said Riddhi Patel, research director of consumer insights for NPD DisplaySearch.
While Ultra HD (also known as 4K) relates to higher picture quality, it is not as important to consumers purchase decisions because it currently carries a significant price premium in most markets, conflicting with the desire for lower prices. "Given that picture quality is the most important driver, it would benefit brands to increase consumer awareness about how Ultra HD can improve picture quality. The same could be said for OLED as well," Patel said.
Consumers in emerging markets are expected to drive the next round of demand, with more than 30 percent planning to purchase a TV in the next 12 months. Increasing awareness and availability of flat panel TVs, coupled with declining prices, are the key drivers of TV replacement.
The TV replacement cycle is similar to last year -- approximately eight years in mature markets and six years in emerging markets -- which can be attributed to two primary factors: first, the majority of legacy sets in household inventories have already been replaced, because of ongoing replacement cycles; and second, in most countries the transition to digital broadcasts is complete and there are few compelling reasons for consumers to replace their existing TVs. Change in the year-over-year replacement cycle has been under 10 percent for most countries in mature markets, which indicates a slowing demand.
"With CRT TVs accounting for only about 20 percent of the household inventory in emerging markets, there are very few units left to upgrade," Patel noted. "Add that to the fact that consumers do not see enough value in the new TV features and we could see replacement cycles slow down in the coming years."
The NPD DisplaySearch Global TV Replacement Study offers a focused view of TV replacement trends in 13 global markets. This study also provides insight into the reasons why consumers are replacing their CRT and flat panel TVs. For more information on the NPD DisplaySearch Global TV Replacement Study, contact Charles Camaroto at 1.888.436.7673, e-mail contact(at)displaysearch(dot)com, or contact your regional DisplaySearch office in China, Japan, Korea or Taiwan.
About NPD DisplaySearch
Since 1996, NPD DisplaySearch has been recognized as a leading global market research and consulting firm specializing in the display supply chain, as well as the emerging photovoltaic/solar cell industries. DisplaySearch provides trend information, forecasts and analyses developed by a global team of experienced analysts with extensive industry knowledge. In collaboration with the NPD Group, its parent company, NPD DisplaySearch uniquely offers a true end-to-end view of the display supply chain from materials and components to shipments of electronic devices with displays to sales of major consumer and commercial channels. For more information on NPD DisplaySearch analysts, reports and industry events, visit us at http://www.displaysearch.com. Read our blog at http://www.displaysearchblog.com and follow us on Twitter at @DisplaySearch.
About The NPD Group, Inc.
The NPD Group is the leading provider of reliable and comprehensive consumer and retail information for a wide range of industries. Today, more than 2,000 manufacturers, retailers, and service companies rely on NPD to help them drive critical business decisions at the global, national, and local market levels. NPD helps our clients to identify new business opportunities and guide product development, marketing, sales, merchandising, and other functions. Information is available for the following industry sectors: automotive, beauty, entertainment, fashion, food, home and office, sports, technology, toys, video games, and wireless. For more information, contact us or visit npd.com and http://www.npdgroupblog.com. Follow us on Twitter at @npdtech and @npdgroup.