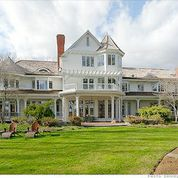 Pompano Beach, FL (PRWEB) June 12, 2014
"Ron Howard's Family Home for Sale"
From: TopTenRealEstateDeals.com
It's not only Ron Howard's home that's All-American. It expands into his family, his one marriage of 38 years, his values and that he is one of the few child stars who didn't bottom out after his initial stardom. At age 60, Ron's professional career has spanned a remarkable 58 years. As an actor, director and producer, Howard's copious television and film credits likely break the record for the achievements of any one person in the industry. We've been with him through his childhood character of Opie in "The Andy Griffith Show" to his Oscar winning "Beautiful Minds" and will follow him in his two new films coming out in 2015, "Jungle Book" and "Inferno.
Not wanting to raise their family in Hollywood, the Howards opted instead for 33 acres on the 140-acre Converse Lake, an hour's drive from New York City. For 20 years, they grew their family in a child's paradise of water sports, basketball, tennis and a barn for their horses and a myriad of other pet creatures. Also a paradise for grownups, it was where Ron could have his observatory with its Meade telescope, and where Cheryl could have her organic vegetable and flower gardens. Now with their children grown and with the couple traveling between their homes in Manhattan, Los Angeles and Paris, it's time to sell the family estate.
At 17,200 square feet, the traditional main home consists of six bedrooms and nine baths, formal rooms, eat-in chef's kitchen, library, game room, a screening room with posters of Ron's films lining the walls and numerous other spaces with multiple porches and decks overlooking the lake. Other features consist of an indoor swimming pool based on the pool in the film "Cocoon," a two-bedroom guest house, a sports barn with full-sized tennis court, livestock barn, paddocks and riding rings, hiking trails and greenhouse.
Ron and Cheryl Howard's family home in the gated community of Conyers Farm, on the border of Greenwich, Connecticut and Armonk, New York, now for sale. Priced at $27.5 million. The listing agent is Robin Kensel of Sotheby's International Realty in Greenwich, Connecticut.
Visit TopTenRealEstateDeals.com for more celebrity, historic, famous and spectacular homes currently for sale.