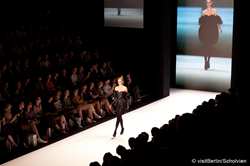 The Berlin Fashion Week is a young yet important event in the world of high fashion, held in one of Europe's hippest and most exciting cities.
Singapore (PRWEB) June 11, 2014
Agoda.com, one of Asia's leading hotel booking sites and part of Nasdaq-listed Priceline Group (Nasdaq:PCLN), is offering stylish hotel deals in Berlin, Germany, to celebrate Berlin Fashion Week, one of the fashion world's most stylish and anticipated events.
Started only in 2007, it has grown quickly in both size and influence based on its roster of young, creative designers. Berlin's reputation as one of the world's coolest, hippest cities is well known. From music to food to design, the city's energetic, experimental culture is perfect for nurturing the next big thing in fashion.
The event this year, from 8-13 July, promises to showcase a wide range of exciting design and cutting edge fashion trends. Shows and exhibitions will be held in some of Berlin's most remarkable locations, including the massive Erika Hess Ice Rink, the glamorous Palazzo Italia, and the historic Alte Munze building.
The shows and displays this year are world class. While some events are open only to industry insiders, many others, such as the Showroom Days events, are open to the public. View shows from cutting edge designers such as ABURY, which is celebrating its new leather bag collection, the distinctive Ille von Rott nightwear collection, Berlin-based menswear designer Tom Herz, and the label launch of Thoas Lindner, inspired by a unique blend of fashion, sculpture, and lyrics.
In addition, the event also puts a heavy emphasis on eco fashion and sustainable design, two popular facets of Berlin's fashion industry. The event's official website says: "Not only are many Berlin based companies, platforms, networks and associations increasingly placing the focus of their work on sustainability, but more and more consumers are developing a preference for products manufactured in an ecological and socially responsible manner."
The show provides the perfect excuse to visit one of Europe's tourist friendly and entertaining cities. Its historical monuments, gorgeous architecture, and legacy as one of the 20th century's most strategically important capitals have given it a vitality and uniqueness that are impossible to forget.
Head to Agoda.com's press center to see some great hotel specials (http://press.agoda.com/news/2014/6/11/agodacom-unveils-great-hotel-deals-for-the-glamorous-berlin.html) and get ready to experience the cutting edge of European fashion in one of Germany's great cities.
For more information on the festival, visit http://www.fashion-week-berlin.com/.