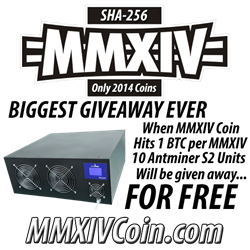 When MMXIV reaches a price of 1 BTC each and holds that price for 2 weeks, I'll be giving 10 Antminer S2's away for free to 10 random people in this thread with free shipping worldwide
(PRWEB) June 13, 2014
MMXIVCoin.com is giving away nearly $25,000 USD worth of mining equipment. The way to enter is simple. Just post in the announcement thread to be eligible for the drawing. There is one very small catch, however. The only way this giveaway even happens is if MMXIV reaches a price of 1 Bitcoin each and holds above that price for 2 weeks straight.
To contribute to the community and become eligible, simply grab some MMXIV coin, hold onto it, and post in the thread. Not bad for a chance at one of ten Antminer S2 units, currently valued at nearly $2500 USD.
On June 5th, the MMXIV Coin development team posted the challenge: "When MMXIV reaches a price of 1 BTC each and holds that price for 2 weeks, I'll be giving 10 Antminer S2's away for free to 10 random people in this thread with free shipping worldwide."
Reaching that price point would put MMXIV among the top 25 currencies in total network market cap. This is definitely possible. There is a hard cap of only 2014 coins that will ever be mined. It would take, at current market, roughly 10 Bitcoin (or about $6500) to get MMXIV near the 1 BTC each price to activate the giveaway.The MMXIV development team is also building a maximum profit calculating auto switching mining pool for all the most popular mining algorithms.
Guiding the price of MMXIV Coin in the right direction is the new multipool located at pool.mmxivcoin.com. Miners select from one, or more, of 4 popular algorithms (SHA256, Scrypt, Scrypt-N, and x11) and mine the most profitable coin at the moment. The pool will then take these coins, automatically trade for Bitcoin, and pay out exclusively in MMXIV Coin. Not only does this help create buy pressure for the coin, driving the price up, but it also gives all those new 1 Terahash S2 miners that are about to be given away a great place to give back to the community sent them out.
This is one of, if not the, largest giveaways the altcoin scene has ever been a part of. There is going to be 10 TERAHASH worth of miners sent out for free to 10 lucky people. With nearly $25,000 USD of mining equipment up for grabs, MMXIV is turning heads, and it's not just the usual altcoin crowd.
For more information, visit MMXIVCoin.com. The official site includes links to the web wallet, Android app on Google Play, paper wallets, exchanges, client downloads, official updates, and much more on both the coin and the upcoming $25,000 mining equipment giveaway. MMXIV is 2014 Coin in Roman numerals to acknowledge when the coin was launched and bring attention to the limited supply of this promising new coin. MMXIV Coin can currently be traded on the Bittrex Bitcoin market