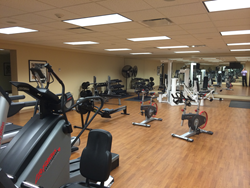 We are proud to earn this distinction again. Our goal is to create a workplace that encourages and enables our employees to build strong, healthy minds and bodies. - David L. Schutt, PhD, Chief Executive Officer of SAE International
Warrendale, PA (PRWEB) June 12, 2014
For the third consecutive year, SAE International has been named one of the Healthiest Employers of Western Pennsylvania, 100-499 employees category, by the Pittsburgh Business Times.
"We are proud to earn this distinction again. Our goal is to create a workplace that encourages and enables our employees to build strong, healthy minds and bodies," David L. Schutt, PhD, Chief Executive Officer of SAE International, said. "We believe we are reaching that goal and the results we are seeing are very encouraging."
Wellness coaches provide SAE International staff with various health and wellness counseling. During the past six months, those coaches report that employees have seen great results in areas such as weight reduction, blood pressure lowering, and increased amounts of exercise.
SAE International was selected as one of Western Pennsylvania's healthiest employers because of the range and scope of its wellness programs. Included is a new exercise room that features cardio equipment and free weights, along with space for yoga and low-impact aerobic classes. The company also provides a cafeteria that offers healthy choices available for breakfast, lunch and snacks.
SAE International also uses a "Wise and Well Committee" which incorporates employees from various areas of the company to coordinate activities. This includes the use of a health and wellness observance calendar to highlight many areas for healthy educational lunch-and-learn subjects. SAE International's annual "Benefits Fair" brings vendors together for employees to be involved in health screening and information sharing. In addition, SAE International has an on-site wellness coach and massage therapists and the company maintains a walking trail and supports organized sports for employees.
SAE International is a global association committed to being the ultimate knowledge source for the engineering profession. By uniting over 145,000 engineers and technical experts, we drive knowledge and expertise across a broad spectrum of industries. We act on two priorities: encouraging a lifetime of learning for mobility engineering professionals and setting the standards for industry engineering. SAE International strives for a better world through the work of our philanthropic SAE Foundation, including programs like A World in Motion® and the Collegiate Design Series™.