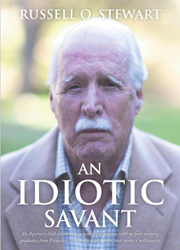 Lovers of a true underdog story will be intrigued by Stewart's rise to success of many kinds in his memoir, 'An Idiotic Savant.'
Danbury, Conn. (PRWEB) June 13, 2014
Russell O. Stewart was just five years old when he awoke in a bordello, the only place his family could afford. The following years looked just as bleak: bouncing between foster homes, being incarcerated in a home for juvenile delinquents and just getting by in a world of poverty.
Lovers of a true underdog story will be intrigued by Stewart's rise to success of many kinds in his memoir, "An Idiotic Savant." The author shares details about his diagnosis with Asperger's syndrome, an autism spectrum disorder characterized with immature behavior and fearlessness of harm, among other symptoms such as unusually high intelligence.
Despite these challenges, Stewart triumphed academically, financially and relationally in life. The book also includes his influences on modern day technology and science, such as his discovery of the concept for the multi-blade razor, his measurement of the optic nerve and others.
Stewart openly shares his romantic rendezvous; his fearlessness took him around the world and into the hearts of over a dozen women from just as many cultures.
An Idiotic Savant
By Russell O. Stewart
ISBN 978-1-4931-2336-0
Available for purchase at Amazon, Barnes and Noble and XLibris online bookstores.
For more information, follow the author on Twitter: @RussOStewart.
About the author
Russell O. Stewart graduated from Princeton University with honors in psychology and spent summers working with people who were blind and physically handicapped. As a naval officer, he refused direct orders to save lives. "An Idiotic Savant" is his first book.
# # #
**FOR IMMEDIATE RELEASE**
EDITORS: For review copies or interview requests, contact:
Courtney Alvey | 317.602.7137 | calvey(at)bohlsengroup(dot)com
(When requesting a review copy, please provide street address.)