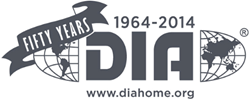 WASHINGTON (PRWEB) June 11, 2014
In an era in which clinical studies take years to complete and testing a single drug can cost millions, technology that once seemed far-fetched — growing models of human organs on microchip — is making remarkable strides.
Creating models of human organs on microchips can save the industry time and money and reduce the need for testing on animals and even patients themselves. Physician, scientist and inventor Daniel Kraft will join Keith Murphy, chairman and CEO of Organovo, and Christopher C.W. Hughes, professor and chairman of molecular biology and biochemistry for the University of California, Irvine, at the DIA 2014 50th Annual Meeting June 15–19 at the San Diego Convention Center to discuss the remarkable progress in research that could transform the science of health care.
"Organs on a Chip: The Future of Efficacy and Safety Testing," led by Barry Mangum, director of clinical pharmacology at the Duke Clinical Research Unit, will take place June 17 at 1:30 p.m.
Studying organs on microchips allows scientists to pinpoint the effects of drugs on patients well before clinical trials, potentially saving millions of dollars spent on drug candidates that fail to produce results. Hurdles in advancing this research include determining how source tissue affects the findings, and translating the results from tests performed on chip-grown tissue into an understanding of how drugs will impact humans. Kraft, Murphy, Hughes and Mangum will provide insight into how microchip data can be used to determine a drug's efficacy and risks in humans, along with guidance on regulatory submissions.
"DIA is honored to welcome Daniel Kraft and other talented global leaders who are driving an era in which cutting-edge biomedical technology holds the key to extraordinary health care solutions," said Barbara L. Kunz, DIA's global chief executive.
Kraft, a Stanford- and Harvard-trained leader with more than 20 years of experience in clinical practice, biomedical research and innovation, is the founding executive director of Exponential Medicine, which brings together biotechnology professionals to advance state-of-the-art technology in medicine and health care. He headlined the opening session of the DIA 2013 49th Annual Meeting, sharing his vision for the future of medicine.
Murphy is the co-founder of Organovo, a San Diego biotechnology company that develops functional human tissues using 3-D technology. He is also the vice chairman of the Alliance for Regenerative Medicine, a Washington, D.C.-based coalition that includes industry, patient advocacy foundations, venture capital firms and academic research institutes focused on the advancement of regenerative medicine.
ABOUT DIA: DIA is the global connector in the life sciences product development process. Our association of more than 18,000 members builds productive relationships by bringing together regulators, innovators and influencers to exchange knowledge and collaborate in a neutral setting. DIA's network creates unparalleled opportunities for the exchange of knowledge and has the interdisciplinary experience to prepare for future developments. DIA is an independent, nonprofit organization with its global center in Washington, D.C., USA, and regional offices covering North and South America (Horsham, Pa., USA); Europe, North Africa and the Middle East (Basel, Switzerland); and Japan (Tokyo), India (Mumbai) and China (Beijing). For more information, visit http://www.diahome.org.
ABOUT DIA's 2014 50th ANNUAL MEETING: Celebrate the Past – Invent the Future is the largest multidisciplinary event that brings together a community of life sciences professionals at all levels and across all disciplines involved in the discovery, development and life cycle management of medical products. The meeting aims to foster innovation that will lead to the development of safe and effective medical products and therapies for patients. For more information, visit http://www.diahome.org/dia2014.