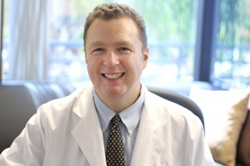 If vasodilators are partially responsible for the progression of AMD, then patients and doctors alike have new knowledge on ways to prevent and treat the condition.
San Diego, CA (PRWEB) June 12, 2014
A recent study by the American Academy of Ophthalmology has found a link between age-related macular degeneration (AMD) and medications for managing high blood pressure. According to the study, vasodilators are associated with a nearly 75% greater risk of developing AMD or other vision-threatening diseases. Carlsbad ophthalmologist Dr. Michael Tracy of Carlsbad Eye Care spoke recently about these findings, reiterating the importance of eye exams for general eye health.
"AMD is a leading cause of vision loss in older individuals," said Dr. Tracy. "The rate of vision loss progresses at different rates for different patients. But if vasodilators are partially responsible for the progression of AMD, then patients and doctors alike have new knowledge on ways to prevent and treat AMD."
Age-related macular degeneration is a condition in which the eye's macula — located in the center of the retina — is gradually destroyed, causing vision loss and blindness. In the study, researchers attempted to clarify the link between AMD and high blood pressure drugs by conducting a study with two groups of individuals: those who took blood pressure lowering medications and those who didn't.
After adjusting for various factors, the researchers discovered that vasodilation drug use may increase a patient's risk of AMD by 72%. Among those who took blood pressure medication, 19.1% developed the disease, compared to 8.2% in the group that didn't take any medications. The results are useful for patients and doctors alike.
"With this research, ophthalmologists have a new understanding of AMD," said Dr. Tracy. "These findings also illustrate the importance of annual eye exams, which are useful for identifying AMD, glaucoma, and other eye diseases before they become serious. With proper precaution and care, patients can help their eyes remain healthy for years."
During annual eye exams, the following tests are performed in order to help detect signs of AMD:
● Visual acuity test: During this test, an ophthalmologist measures how well patients see at various distances. Problems reading at a distance could be a sign of AMD or other eye conditions.
● Pupil dilation: By dilating the pupil, ophthalmologists gain a better look at a patient's retina, allowing them to look for signs of AMD.
Although more research needs to be done to fully understand the link between AMD and blood pressure medications, this new study can help those who suffer from the condition better understand the potential causes and treatment options.
Dr. Michael Tracy is a Board-certified ophthalmologist. He completed his residency training in Ophthalmology at the Scheie Eye Institute at the University of Pennsylvania and his fellowship in Corneal and Refractive Surgery at the Bascom Palmer Eye Institute. In his private practice at Carlsbad Eye Care, Dr. Tracy uses his expertise and knowledge to provide patients with the best eye care in San Diego.
To contact Carlsbad Eye Care, please visit http://carlsbad-eye-care.com/ or call (760) 603-9910.