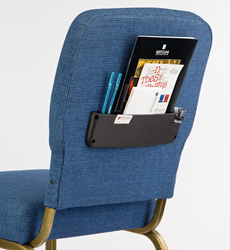 Chino, CA (PRWEB) June 12, 2014
Bertolini Sanctuary® Seating is proud to introduce its latest innovative in church chair accessories, the patent pending card pencil holder with integrated business card dispenser and retractable communion cup holder. While card pencil holders have been around for awhile, Bertolini Sanctuary® Seating has taken a fresh approach and created a church chair accessory that is truly innovative and extremely functional.
The communion cup holder flips down to hold communion cups and flips up out of the way to maintain a slim profile that doesn't interfere with the stackability of the church chair. Opposite the communion cup holder are two pencil slots to hold standard, golf-size and larger pencils or pens. The main compartment has plenty of room and will hold full sized 8 and half by 11 large brochures, smaller brochures and even envelopes. For churches that use a business card size invitation there is a dedicated slot to keep those invitations neat and accessible. "Designed and manufactured in the USA, Bertolini Sanctuary® Seating has come up with another winning church chair product," says Chuck Horn, President at Bertolini Incorporated.
The Add-On Card Pencil Communion Cup Holder is now available on Bertolini Sanctuary® Seating's e-commerce church chair store. It provides the customer with a product description, specifications, lead time, and warranty information. A how to video is also available for the customer to be guided with step-by-step instructions on how to install the card pencil holder on the back of their church chair. This product has a patent pending number and should present as follows: Patent Pending US61/904,933.
Bertolini Sanctuary® Seating is a design leader in the use of ergonomically correct chair design and its Flex fit seat design technology for churches. Their chairs are light and strong. Their expertise in the manufacture of quality stackable seating and commitment to superior customer service wins the appreciation of congregations worldwide. To find out more, visit http://www.sanctuaryseating.com.