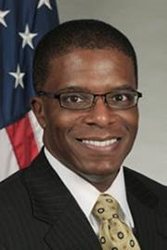 Atlanta, GA (PRWEB) June 26, 2014
The FDI Association today announced the appointment of Barry Johnson of 32 Advisors as its first Chairman of the Board.
Barry Johnson leads the Inbound Investment and Global Market Access advisory practice of 32 Advisors LLC, a New York–based cross-border business advisory firm servicing domestic and international corporations, public entities, governments, financial services firms, and high growth businesses.
Prior to joining 32 Advisors, Johnson served in the Obama Administration in several senior advisory capacities: first in the U.S. Department of Commerce as Senior Advisor for Economic Development; then as founding Executive Director of SelectUSA, the first White House initiative to promote and facilitate inward investment. In that capacity he also served as Chairman of the Inter-Agency Working Group on FDI comprising senior officials from 35 executive branch agencies whose policies influence U.S. investment climate for FDI (foreign direct investment).
Johnson also represented the United States as Vice Chairman of the OECD's Territorial Development Policy Committee and later the Investment Policy Committee.
He earned his Bachelor of Science degree in Economics & Political Science from Yale University and his Master of Business Administration from Harvard Business School.
"We're thrilled to have Barry Johnson as the first Chairman of the Board for the FDI Association," said Adam Jones-Kelley, Managing Director of Conway Data, Inc. "Barry is a passionate advocate for foreign direct investment, full of ideas and energy which will add a great deal of value to both companies and government agencies. Barry's leadership will ensure that the FDI Association is always presenting the most dynamic and relevant forum for professionals involved in cross-border investment."
Mr. Johnson joins other members of the board of directors of the FDI Association, including:

Secretary Stephen Moret of Louisiana Economic Development
Craig Hagen, Corporate Director of Government Affairs for Electronic Arts
Cathy Rogers, VP of Global Opportunities, IBM
Christopher Sanders, Executive VP and Head of Corporate Planning, Leopold KOSTAL GmbH
Claus Longborg, Managing Director of Copenhagen Capacity
Dato' Azman Mahmud, CEO of MIDA (Malaysia)
Yin Hong, National Director and Head of Manufacturing Services China, Jones Lang LaSalle Shanghai
Andreas Dressler, Managing Director,Terrain
Jim Winter, Director of Industrial Services, CRESA
David East, Director of Business Development, fDi Intelligence
"I am honored to have been selected as Chairman of the Board of the FDI Association, an organization poised to play a catalytic role in facilitating Foreign Direct Investment globally and a key driver of economic growth for local, regional and national economies" said Johnson. "During my tenure as FDI Association Chairman I will use my public and private sector experience, along with that of my strong and seasoned fellow board members, to increase the awareness on benefits of FDI and support innovative policies and collaborations that will lead to increased cross-border investment flows."
Mr. Johnson will preside as the new Chairman at the upcoming World Forum for Foreign Direct Investment taking place at the Union League Club in Philadelphia June 15-18. For more information, visit http://www.worldforumforfdi.com.
About The FDI Association
The FDI Association is the first and only association in the world exclusively for professionals driving foreign direct investment. It is a global association focused on helping governments to create business environments and provide optimal conditions for foreign investors. Our mission is to create a clear FDI dialogue between government and industry, raise the profile of an activity that makes a quiet but significant contribution to the global economy and we are providing an unmatched forum for debate, deal-making and professional education. For more information visit http://www.fdia.com
About Conway Data Inc.
For six decades Conway Data (CDI) has been the leader in providing business intelligence, training and services to corporate investors and economic development agencies around the world. The firm manages the Industrial Asset Management Council, the leading association of industrial asset management and corporate real estate executives, their suppliers and service providers, and economic developers. CDI also owns and manages London-based Red Hot Locations, New York-based The PONT Group, Berlin-based consultancy Terrain and the Janus Institute. CDI has offices in Atlanta, New York, London, Berlin, Mumbai, Mexico City, Philadelphia, Nashville and Kuala Lumpur. Site Selection magazine (http://www.siteselection.com), published by CDI since 1954, delivers expansion planning information to 49,000 subscribers, many of them employed by fast-growing firms. Site Selection's growing family of e-newsletters includes the Site Selection Dispatch, The Site Selection Energy Report, The Site Selection Life Sciences Report, Site Selection International, The Site Selection Aerospace Report and The FDI Report. http://www.conway.com