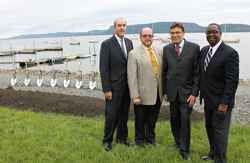 We have another opportunity here to turn a former industrial brownfield site into an important riverfront attraction and economic driver for the Village of Ossining.
Ossining, NY (PRWEB) June 13, 2014
Harbor Square, a $65 million mixed-use development by Ginsburg Development Companies (GDC), officially broke ground – marking the realization of a project that is a critical component of the Village of Ossining's plan to revitalize both their Hudson River waterfront and downtown business district. Construction has commenced with pile drivers installing poles up to 150 feet deep for the foundation.
Members of the Village Board, Mayor William R. Hanauer, and developer Martin Ginsburg were joined by local and state officials to kick-off the construction of the Harbor Square project, which is expected to create more than 300 construction jobs over a period of two years. The project is comprised of a 188-unit full service luxury rental building offering market-leading amenities, a 5,000 square foot destination waterfront restaurant, and a new Hudson River waterfront park and promenade to be distinguished by several monumental public sculptures and a creative children's playground. Pursuant to Ossining's policy, 10% of the units (19) will be dedicated to affordable workforce housing for those making up to 80% of Westchester County's median income.
"We are very excited to see this project finally come to fruition after years of careful planning and an unavoidable delay due to the economic downturn. Now we look forward to the future and the many positive impacts that Harbor Square will bring to our Village… from increasing the economic diversity of our residents living near the downtown, which will benefit Main Street businesses, to the greater tax revenues. Harbor Square's spectacularly scenic waterfront restaurant will be a major draw throughout the region and the new park along the Hudson River will extend Ossining's River Walk and enhance the quality of life for all of those who visit," said Mayor Hanauer.
Harbor Square marks the post-recession return of GDC to development in Westchester County, where the firm was founded 50 years ago in 1964. GDC has built more than 35 luxury residential projects throughout the region with a company focus on properties along the Hudson River, including the Harbors-at-Haverstraw community in Rockland County where 330 units have been built to date.
"GDC is thrilled to finally begin building this exciting new development. We had a lot of time to perfect the design! I am even more thrilled to be back on the Hudson River. It has been over 12 years since we initiated the ferry connecting Haverstraw and Rockland County with Ossining and Westchester. We have another opportunity here to turn a former industrial brownfield site into an important riverfront attraction and economic driver for the Village of Ossining. The residential building at Harbor Square will be unique to this marketplace, with world-class architectural style, beautiful interior design and finishes, unparalleled amenities including a rooftop pool, fitness center and an exciting spa, as well as full concierge services. When given the opportunity to develop a unique Hudson River site adjoining the Metro-North Train Station, we must do something truly exceptional. The Village wants it to be so and we are delivering it," said GDC Principal Martin Ginsburg.
GDC anticipates a broad market for the units at Harbor Square, from singles and young couples who are not yet ready to purchase a home, to empty nesters who want a truly exciting residence where they can live in a resort-like environment all year long. First residential occupancy is expected in March 2016.
"The county's Industrial Development Agency is proud to support this incredible project with more than $2.3 million in sales and mortgage tax incentives," said County Executive Robert P. Astorino. "This visionary development will create jobs for our residents and provide tax revenue for our schools and local services. This partnership between the county, the village, the town and one of our most accomplished developers is Westchester at its best."
Harbor Square is the first of four groundbreakings for residential rental projects that GDC will begin constructing this year. The others are a 330-unit project in the Greystone neighborhood of Yonkers, a 110-unit building representing the next phase of Harbors-at-Haverstraw, and a 66-unit project along the Saw Mill River in Hastings-on-Hudson.
"As we celebrate our 50th Anniversary, we at GDC have a historic period of activity ahead," concluded Ginsburg.
Additional information on GDC and its projects, including Harbor Square, can be found on the company website at gdcllc.com.
To learn more about economic development opportunities in the Village of Ossining, visit http://www.villageofossining.org/economicdevelopment or contact Ingrid Richards, Manager of Downtown and Economic Development, at irichards(at)villageofossining(dot)org or 914-941-3554.
About Ginsburg Development Companies
Founded in 1964 by principal Martin Ginsburg, Ginsburg Development Companies (GDC) is a premier residential developer in the northern suburbs of New York City. With 50 years of experience and market leadership, GDC has built many of the region's most successful and prestigious luxury developments, many with a Hudson River and/or transit-friendly focus, including Harbors at Haverstraw, Livingston Ridge in Dobbs Ferry, Ichabod's Landing in Sleepy Hollow, Mystic Pointe in Ossining, Marbury Corners in Pelham and Christie Place in Scarsdale. GDC's developments have won numerous design and community planning awards. In addition, GDC owns and manages a portfolio of commercial properties, located primarily in Westchester County, NY. For more information, visit http://www.gdcllc.com.
About the Village of Ossining
On April 2, 1813, the Village of Ossining became the first incorporated village in Westchester County to be state-chartered. Today, Ossining is a culturally diverse, affordable place to live, rich in both history and natural beauty. Approximately 25,600 people reside in the three and one half square miles of this historic Village on the Hudson River, which boasts extensive shopping, recreational programs, educational enrichment opportunities, and excellent municipal services. Ossining's role in New York's heritage has been recognized by its inclusion, as one of only 14 areas, in an Urban Cultural Park System designed to attract visitors to the State. Visit http://www.villageofossining.org for more information.