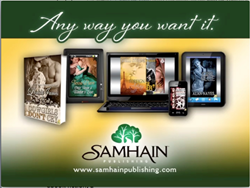 "We look forward to rolling out this program to our extraordinary author base and developing relationships with bloggers, reviewers, librarians and other industry readers." - Christina Brashear, president of Samhain Publishing
Cincinnati (PRWEB) June 12, 2014
International publisher Samhain Publishing® today announced it has contracted with NetGalley, a popular online service that provides digital review copies of fiction titles to reviewers, librarians and publishing professionals through an easy-to-access online portal. This new author benefit will enable the publisher to share its titles with a broad range of engaged readers, allowing Samhain to introduce some of its newest voices, as well as to expand the fan base of its award-winning and bestselling authors.
"We're thrilled with the opportunity to reach new readers as well as established fans through our new relationship with NetGalley," explains Christina Brashear, president of Samhain Publishing. "We look forward to rolling out this program to our extraordinary author base and developing relationships with bloggers, reviewers, librarians and other industry readers."
Samhain Publishing releases between five and seven new titles a week, across its three lines of romance, horror, and Retro Romance®. With the specialized structure of its NetGalley relationship, the publisher seeks to provide all titles for a limited amount of time each, for review through the service.
To learn more about Samhain Publishing, visit the publisher online at http://www.samhainpublishing.com. Bloggers, reviewers and interested industry professionals can learn more about Samhain's NetGalley review program by emailing marketing (at) samhainpublishing.com.
About Samhain Publishing
Samhain Publishing® is an international publisher of ebook and traditional print fiction, whose diverse array of titles include all genres of romance fiction, award-winning horror fiction, and Retro Romance® fiction—a program which enables previously print-only titles to reach a new e-reading audience. An acknowledged expert in digital publishing since its founding in 2005, Samhain is dedicated to ensuring extraordinary stories reach every reader. To learn why at Samhain "It's all about the story…", visit Samhain Publishing online at http://www.samhainpublishing.com.