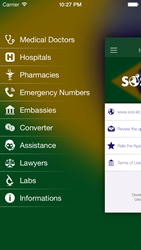 (PRWEB) June 13, 2014
SOS KIT BRAZIL is a simple and very useful app that helps foreign travelers to Brazil to have at their fingertips:

All local emergency numbers, all local first aid contacts
All embassies and consulates contacts
Recommended medical doctors and hospitals
More than 32,000 pharmacies
Recommended lawyers and labs
A currency converter
Assistance services contacts (consular assistance, medical assistance, money transfer, credit cards assistance)
The app is fully functional offline, available 24/7. No ads.
SOS KIT BRAZIL is now available on Apple app store and Google play for a launching price of 0.99€.
For more details, please visit our website: http://www.sos-kit.com.
SOS KIT is a young start-up that aims to become a new reference among travel apps on the local information market.