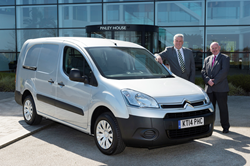 Celebrating 100,000 Teletrac Units for Citroen UK
(PRWEB UK) 16 June 2014
In a sign of industry success, the 100,000th Teletrac telematics system has just been fitted to Citroën's award-winning LCV's. Specified as standard on all Berlingo, Dispatch and Relay panel vans, this unique telematics package includes Smartnav® satellite navigation and Stolen Vehicle Tracking, as well as providing the platform for optional, low cost fleet tracking using Fleet Director®.
Jeremy Smith, Head of Commercial Vehicles & Business Sector Operations Citroën Sales
Citroën UK, remarked, "The unique Citroën Teletrac telematics package has been specially developed to provide our LCV customers with an unrivalled range of operational, safety, security and financial benefits. The system plays an important part in Citroën's commitment to reduce carbon footprints and raise the efficiency of its LCV range."
Fleet Director is an additional service available to all Citroën customers, it combines new business intelligence technologies and safety analytics features with two-way messaging and GPS vehicle tracking; capabilities that have long made Fleet Director an industry-leading solution. With Fleet Director, operations managers across a wide variety of industry segments can run fleets more efficiently whilst simultaneously cutting costs and improving driver safety and productivity.
Teletrac's award-winning Safety Analytics solution, an innovative feature within the company's Fleet Director® platform, helps fleets reduce unsafe driving incidents, increases productivity and rewards safe driving. It has been reported recently that commercial drivers are 50% more likely to be involved in a road accident than ordinary drivers. The Safety Analytics software feature safeguards companies from such driving behaviour, providing a comprehensive safety tool, monitoring driver behaviour with the ability to generate driver safety score reports based on a specific set of driving parameters.
Citroën is the only manufacturer in the U.K. to offer LCVs fitted with stolen vehicle tracking. In 2013, the stolen vehicle recovery system, fitted as part of the Teletrac telematics package, saw 96% of Citroën LCVs stolen being recovered. As a result, over £300,000 worth of vehicles were recovered. Furthermore Citroën LCV drivers saved the equivalent of 15,615 working days and made significant cost savings through more efficient routing. In a decisive move, Citroën has just decided to fit its Teletrac telematics system as standard to all new Relay panel vans.
ENDS
Media information:
Karen Sutton, Marketing Manager
E: ksutton(at)teletrac(dot)com
About Teletrac®
Already proven and trusted by more than 21,000 fleets of all sizes and tracking more than 250,000 vehicles globally, Teletrac saves fleet owners time, money, and reduces their carbon footprint. Teletrac customers report up to 30% lower fuel usage, an average of 15% less driver overtime, 12% higher productivity and less unauthorised vehicle use.
Teletrac provides Fleet Director, their fleet management solution in the UK, which combines all of Trafficmaster's intelligent technology to help businesses become more efficient and productive, whilst reducing the environmental impact of driving.
For further information, visit http://www.teletrac.co.uk.