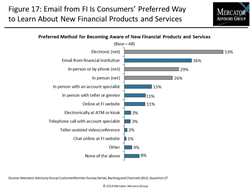 Consumers want the convenience of having their digital 'branch' be available wherever they are, at any time, at home and by mobile, as more banking activities shift to mobile platforms.
Boston, MA (PRWEB) June 12, 2014
Mercator Advisory Group's most recent Insight Report from our latest CustomerMonitor Survey Series reveals that 84% of U.S. consumers now perform banking activities to manage their account information using their home computers or mobile devices, of these 69% only use their computers to do so. Online banking is pervasive, and consumers are increasingly receiving alerts from their financial institutions and accessing online banking websites by mobile devices when they are on the go.
Consumers are beginning to rely more heavily on online banking as their digital "branch" or banking source for managing their accounts and for customer service. Online and mobile banking are the fastest growing methods used by consumers to communicate with their financial institutions. Online banking is becoming critical and the preferred source to learn about new financial products and services, as Mercator Advisory Group's survey finds that over half (53%) of consumers prefer to be notified electronically, mostly by email (36%) and more than in person (26%).
The survey findings are based on responses from a sample of 3,001 U.S. adults with banking relationships collected in the company's CustomerMonitor Survey Series annual online Banking and Channels survey, conducted in November 2013.
Online Banking: A Shift to Mobile Platforms, the latest report from the CustomerMonitor Survey Series in Mercator Advisory Group's Primary Data Service, highlights trends in use of online banking by computer and mobile platforms, communication methods with financial institutions, use of personal financial management (PFM) tools, alerts, online bill-payment methods and electronic billing, and demographics of recent account openers. The study evaluates the account opening process online, consumers' preferences of platform for making bank transactions and for receiving new information on products and services.
"Consumers want the convenience of having their digital 'branch' be available wherever they are, at any time, at home and by mobile, as more banking activities shift to mobile platforms," states Karen Augustine, author of the report and manager of Primary Data Services at Mercator Advisory Group, which includes the CustomerMonitor Survey Series.
Highlights of this Insight Report include:

Trending of mobile Internet access via different access methods, online and mobile banking activities, and primary method of access for banking transactions
Demographics of recent account openers, online vs. other methods, satisfaction with online account opening, and need for additional assistance
Shifts in communication methods with financial institutions, and banking activities performed by computer and mobile platforms
Usage breakdown of electronic payments, e-billing and financial management tools, tax preparation and personal financial management software, and changes in use of PFM tools
The report is 41 pages long and contains 17 exhibits.
Members of Mercator Advisory Group CustomerMonitor Survey Series Service have access to this report as well as the upcoming research for the year ahead, presentations, analyst access and other membership benefits.
Please visit us online at http://www.mercatoradvisorygroup.com.
For more information and media inquiries, please call Mercator Advisory Group's main line: (781) 419-1700 or send email to info(at)mercatoradvisorygroup(dot)com.
For free industry news, opinions, research, company information, and more, visit us at http://www.PaymentsJournal.com.
Follow us on Twitter @ http://twitter.com/MercatorAdvisor.
About Mercator Advisory Group
Mercator Advisory Group is the leading independent research and advisory services firm exclusively focused on the payments and banking industries. We deliver pragmatic and timely research and advice designed to help our clients uncover the most lucrative opportunities to maximize revenue growth and contain costs. Our clients range from the world's largest payment issuers, acquirers, processors, merchants and associations to leading technology providers and investors. Mercator Advisory Group is also the publisher of the online payments and banking news and information portal PaymentsJournal.com.