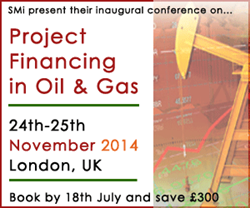 London, UK (PRWEB UK) 13 June 2014
SMi Group Reports: Project Finance in Oil and Gas conference will be taking place in London, on the 24th and 25th of November 2014.
This event will present itself as the perfect forum for learning about project financing within oil and gas, giving delegates the opportunity to learn and network with key professionals within the industry.
Confirmed speakers include Robert Clews, Head of Oil, Gas & Petrochemicals, PF Lending, SMBC Europe; Dolan Hinch, Director, Head of Infrastructure & Energy, Middle East & Africa, Deutsche Bank; Mirae Ahn, Structured Finance Manager, BP; Martin McAspurn-Lohmann, Executive Director, Head of Oil and Gas, Santander; David Craig, Head, Project and Structured Finance Branch, UK Export Credit Finance; Rob Nesbitt, Director, Structured Finance, Oil & Gas, RBS Corporate & Institutional Banking; Charles Whitney, Partner, Norton Rose; Andy Brogan, Partner, Global Oil & Gas Transactions Leader, Ernst & Young; Liam O'Keeffe, Managing Director, Credit Agricole CIB; Edward Jankowski, Director of Commercial and Gas, RPS Energy plus many more.
This meeting will be a fantastic opportunity for companies within oil and gas to talk with leading experts who are currently working on projects.
Event attendees will hear about project financing expressed from the view of the lenders from around the globe. The diversity of companies representing all aspects of PF will enable delegates to have a broad spectrum of ideas and opinions to use on their own projects.
The event programme will be focusing on the mechanism of upstream oil and gas project finance; complexities of infrastructure projects; different approaches needed for onshore and offshore projects; processes of the syndicated loans market plus much more.
There will also be the interactive full-day post-conference workshop "Reserves and Resources - A Guide to PRMS", hosted by RPS Energy
For more information, please visit the event website http://www.smi-online.co.uk/2014pfoilgas47.asp
Alternatively, contact Sajid Goraya on +44(0) 207 827 6148 or e-mail sgoraya@smi-online.co.uk
Contact for media-partners – Julia Rotar, jrotar@smi-online.co.uk