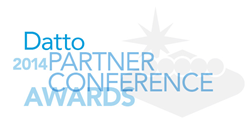 Norwalk, CT (PRWEB) June 12, 2014
In celebration of the 2014 Datto Partner Conference last week in Las Vegas, Datto, a global provider of leading hybrid cloud-based backup, disaster recovery (BDR) and intelligent business continuity solutions, closed out its second annual conference with numerous awards and achievements.
"Datto is channel-only, so it's critical that our partners have success using our solution, which means our Partners come first in everything we do," stated Rob Rae, Datto Vice President of Business Development. "Our success is directly attributed to our Partners so being able to recognize them and our conference sponsors is a great way to honor their achievements and dedication to focus more on business continuity."
New to this year's conference agenda were the awards recognizing the success, development and commitment of Partners to the Datto offerings and solutions. Awarded in seven categories, Datto Partners were evaluated based on both metrics and superlative performance.
The Datto Hall of Fame, also a new addition, honors the company's earliest and longest-standing Partners since inception in 2007.
Conference attendees also voted on the 33 sponsoring vendors who participated in the festivities. All 33 sponsors were evaluated in the Conference App for achievement in five different categories.
The winners of the 2014 Datto Partner Awards include:

Innovator of the Year: Solutions, Inc.
Community Partner of the Year: River Run Computers, Inc
Partner of the Year: Mirazon and Hilltop Consultants (Co-winners)
Largest Datto Fleet: Liptak dental
Breakout Partner of the Year: Flexible Systems
Fastest Growing Partner of the Year: Results Technology
Fastest Growing EMEA Partner of the Year: Complete I.T.
Hall of Fame inductees:
TekTegrity
Camera Corner Connecting Point
Preferred IT Group
Connect Computer
WOODNETworks
The winners of the 2014 Vendor Awards include:
Best Integrated Solutions: ModernOffice Suite
Best Revenue Generator: RapidFire Tools
Most Innovative Product: GFIMax
Best Exhibitor Execution: LOGMEIN
Best In Show: LOGMEIN
For more information on Datto, visit http://www.dattobackup.com.