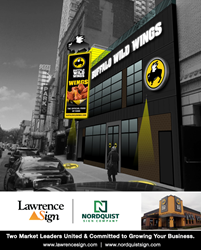 St. Paul, MN (PRWEB) June 14, 2014
Lawrence Sign has designed, fabricated and installed the exterior and interior sign package for the new Buffalo Wild Wings location in New York's Times Square. This marquee branding and corporate identity opportunity represents the culmination of several years of effort and planning for both Buffalo Wild Wings and Lawrence Sign.
In true Times Square fashion, Lawrence Sign utilized state-of-the art sign technology, lighting systems, and projection equipment for maximum brand impact for this high visibility project. This new Buffalo Wild Wings location encompasses 15,500 square-feet of space and consists of five levels including the rooftop space. The store is located on West 47th Street between Seventh and Eighth Avenues.
Robb Walker, CEO of Lawrence Sign, is excited by the opportunity. "We've designed and installed signage for Buffalo Wild Wings throughout the country. Times Square, however, is a pinnacle in our relationship. We're proud to collaborate with a premium brand in such a prominent and culturally significant setting."
Lawrence Sign has long been a valued partner of the Buffalo Wild Wings brand. Since 2002, Lawrence Sign has completed more than 400 sign projects for Buffalo Wild Wings.
"This is one of our most significant investments to date in one of the highest visibility locations in the world," said James Bitzonis, President of Four M Capital, LLC, a multi-unit Buffalo Wild Wings franchisee. "We've partnered with Lawrence Sign because of their demonstrated expertise in visual branding and corporate identity. We selected D3, a global technology company that designs, engineers and manufactures turnkey LED display solutions, to develop the full motion video LED blade display. D3 has proven expertise, exceptional quality of service, and they are the leading provider of digital signage in the Times Square market."
Jim continued, "For a store of this significance it was mission critical to have the highest quality execution for our interior and exterior signage. We knew Lawrence Sign and D3 would deliver."
About Lawrence Sign & Nordquist Sign
Lawrence Sign, founded in 1929, designs, fabricates and installs signs for almost every industry servicing local, national and international clientele. Lawrence Sign utilizes advanced technologies and expansive facilities to provide direct in-house control of the entire sign fabrication process. The Company excels at serving companies with a multi-site national and international presence.
Nordquist Sign has been fabricating and installing interior and exterior signage, architectural elements and way-finding signage for over 100 years. Nordquist's customer base and scope of work includes custom signage and environmental graphics for hospitals, sports facilities, themed entertainment, corporate/financial and mass transit industries. Nordquist Sign also maintains a gaming division with offices in Las Vegas, NV and St. Paul, MN to serve casino gaming markets throughout the United States.
In early 2012, Lawrence Sign combined with Nordquist Sign to unite the unique resources and capabilities of the two companies. Together, Lawrence Sign and Nordquist Sign offer their clients over 175 years of experience in sign manufacturing and installation for all facets of the signage industry.