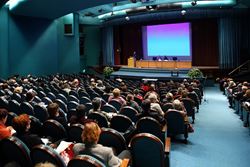 Our objective is to educate the physician groups that are not familiar with the process involved in recommending medical cannabis as an alternative treatment for New York residents"
Long Island, New York (PRWEB) June 13, 2014
This course study will be offered and presented by COO John Nicolazzo, and offered free of charge to any physician in the greater New York area looking to get involved in the medical marijuana sector. The course date (TBA) will take place out of Plainview, Long Island located at the Medical Cannabis Network's headquarters and will seat only 15 physicians with the limited space that is available.
"This is an opportunity like none other. Most educational courses whether they are CME approved or not cost on average around $1200 per doctor. We understand the value of what we are offering and we have spent 90 days in preparation for the New York legislature to come out with a fine tuned program like they have. If we wanted, we could also charge for this course, but this is not our objective," said COO John Nicolazzo.
"Our objective is to educate the physician groups that are not familiar with the process involved in recommending medical cannabis as an alternative treatment. Eventually, our hope is that these same doctor groups will become a part of our network, to which we will be able to provide them with an all-in-one turnkey solution for their practice."
Background History of Presenter:
With over 22 years of IT experience – John Nicolazzo built his first computer alongside his father at the age of ten. With genetic roots combining a medical and IT background, John's mother (Patti Jane Nicolazzo) who passed of Cancer not more than a year ago was a registered nurse, and his father (Kevin Paul Nicolazzo) a Computer and Chemical Engineer. With this in mind, he always envisioned creating a niche market combining the two fields.
After finally receiving the chance to embark on his future career, at 21 years of age he was hired to work at Foxwoods Resorts Casino as a simple computer technician. However, with high ambitions to succeed and a fast paced work ethic, within six years' time he had already found his way to becoming a Systems Analyst working directly for the tribal government entity of Foxwoods.
After only seven years' time, Nicolazzo's success working for the world's largest casino placed him in a hierarchy position that he always aspired to obtain. He found himself working with over 80 different CEOs, COOs, CFOs, Directors and members of the Foxwoods tribal council. While in this position he managed a budget of over 2 million dollars each fiscal year and juggled nearly 15 IT projects throughout each year. He was also one of the lucky few to evaluate the Tribal Connecticut law enforcement's first-ever bio-metric hand scanner to be used with direct communication to the bureau of Indian affairs.
Long after his success working directly with Tribal Council, John Nicolazzo quickly learned that his entrepreneurship had overcome him and it was only a matter of time before he ventured off to California to get involved in the medical cannabis sector.
Fast forward 4 years and John Nicolazzo is now the proud co-owner of the Medical Cannabis Network which is comprised of over 1,560 domains, 306 of which are active and over 20 major brands that have been introduced to the general public in the marijuana sector. Now located out of Huntington New York, John Nicolazzo promises to bring with him to this industry not only the same work ethic, but an everlasting form of passion as he and his Business partner Jason Draizin set out to become the largest legal medical cannabis corporation in New York.
Any doctor or medical extender group looking to obtain more information on this course should contact Jessica Cahill Director of Operations at MarijuanaDoctors for an immediate reservation, as space is limited for this rare opportunity.
888-392-9772 Ext. 2